Biography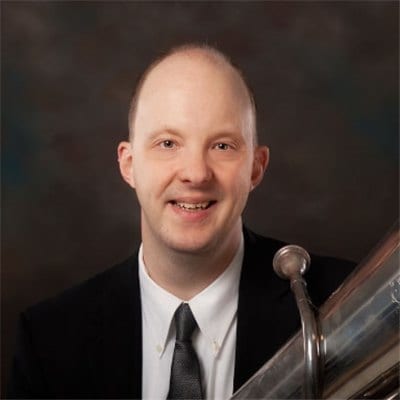 Tom McCaslin has been described by Fanfare Magazine as "one of the contemporary tuba virtuosos". Originally from Regina, Saskatchewan Tom's playing and teaching have taken him around the globe. He has performed and taught in Canada, the United States, Switzerland, Portugal, Finland, New Zealand and Australia.
Tom is Principal Tuba in the Calgary Philharmonic Orchestra. He has also performed with the Minnesota Orchestra, the Detroit Symphony, the Boston Symphony Orchestra, the North Carolina Symphony, the Regina Symphony, the Winnipeg Symphony, the New Mexico Symphony, the Orquestra Sinfónica do Porto Casa da Música (Portugal), the Lahti Symphony (Finland) and was acting Principal Tuba in the Auckland Philharmonia (New Zealand).
As a soloist Mr. McCaslin's solo recordings appear on the Crystal Records and Potenza Music labels. His first solo CD release, "Inside Out", was met with much critical acclaim. The International Tuba and Euphonium Association journal wrote: "Hopefully this CD will serve to inspire the "next generation" of young tubists who will hear and accept this as regular playing, and strive to push the limits even further." Gramophone magazine wrote: "lf this recital doesn't convert you to the lyricism of the tuba, nothing will." Regarding his second CD release, "One More Dance", Gramophone Magazine wrote: "McCaslin's technical abilities are brilliant and his musicianship is inspiring." Tom has also recorded for the Canadian Broadcast Company, National Public Radio and performed on Prairie Home Companion with Garrison Keillor. He has performed at numerous International Tuba and Euphonium Conferences and at the United States Army Band Tuba and Euphonium Conference held in Washington, D.C.
Mr. McCaslin received degrees from McGill University and Arizona State University, with extensive study with legendary tubists John Griffiths, Fritz Kaenzig, Roger Bobo, Dennis Miller, and Samuel Pilafian. During his university studies he became the first tubist to return three summers to the prestigious Tanglewood Music Center, the summer training center for the Boston Symphony.
Tom McCaslin is a Yamaha Performing Artist and plays exclusively on Yamaha instruments.
When not sitting behind his tuba Tom relishes his time with family, cycling, espresso, and laughing as much as humanly possible.