Biography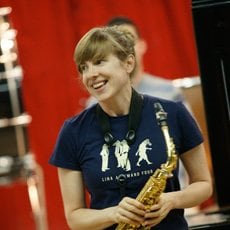 Toronto-born alto and soprano saxophonist Tara Davidson has performed around the world at such prestigious venues as New York City's Carnegie Hall, the acclaimed North Sea Jazz Festival in the Netherlands, the International Jazz Festival in Lima, Peru, and The Kennedy Center, in Washington, D.C.
Davidson has produced three recordings as a leader since 2003 and performed on over twenty recordings as a side person.Davidson's sophomore CD, Code Breaking, was released in the fall of 2006 and featured JUNO award winners, Mike Murley (tenor saxophone) and David Braid (piano). The 2007 JUNO Awards nominated Code Breaking for "Traditional Jazz Album of the Year". In early 2011 Davidson released her third solo disc, View, which showcases her evolution as a composer and improviser.
At the beginning of 2011 Davidson started the Carn Davidson 9 which is a collaborative project between herself and fellow JUNO Award nominated artist, trombonist William Carn. This project is an opportunity for both artists to "reimagine" their compositions for this nine-piece, chamber jazz nstrumentation,
shining new perspective on their existing repertoire. The Carn Davidson 9 released their debut recording, Nine, on Toronto's Addo Records and it received 3.5 stars from DOWNBEAT magazine.
The European Broadcasting Union singled Davidson out in April 2008 to represent Canada as the lead alto/soprano saxophonist in the European Jazz Orchestra's 3-week 2008 European tour. The group spent three weeks traveling across Denmark, Belgium, Germany, Luxembourg, and the Netherlands performing the music of saxophonist Niels Klein. Over the course of the three-week tour, the band recorded several times for the legendary WDR and an official recording was released in mid-2009.
Davidson's most significant musical influence has been saxophonist Mike Murley with whom she studied for five years. She is a graduate of the prestigious University of Toronto Jazz Performance Program where she studied with other prominent Canadian musicians such as Phil Nimmons, Paul Read, Alex Dean, and Kirk MacDonald.
Davidson is an active educator. She is on faculty at York University, the Humber College Community Music School and the National Music Camp of Canada (Jazz Faculty).
Tara Davidson is proud to be a Yamaha Artist and plays their Custom Z alto saxophone.