Biography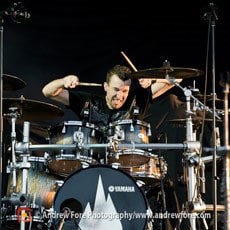 Steve has always had a love for drums and rhythm. At age 2 he was counting in songs on the radio, and asking for drums to play. By age 5 his Mom was tired of all the damage he was doing to their pots, pans and Tupperware, so she bought him a drum set from the local toy store. Steve never looked back, playing 3-5 hours daily, not to practice, but just because he loved it so much. It wasn't long before Steve got the attention of a few local bands, and by age 12 started to play out at churches, clubs and camps whenever he could. By 15 he had recorded with his high school band (Lennon Road), and by 17 had a full schedule of working by day, and playing drums by night.
At this point, after owning many different drum sets, Steve finally discovered Yamaha drums, and felt that his sound was complete. "I can't get enough of Yamaha drums and hardware", says Steve. "They are an innovative company that is always changing, and moving with new idea's to further their products and sounds- they keep it exciting!"
Steve has toured all of Canada and the U.S. as a member of the bands Thousand Foot Krutch and FmStatic (Tooth and Nail records/EMI music reactive), playing 200 plus shows per year over the past 6 years. Steve has played Yamaha Maple custom nouveau bass drums, and birch custom nouveau toms complemented by one of Yamaha's innovative ideas in the Bamboo snare drum. Currently Steve Is touring with his PHX "Phoenix" Hybrid set with full HEXRACK outfit and YAMAHA DTX900 sampling trigger system. Thousand Foot Krutch also tours with Yamaha's digital console (Yamaha 01V96) for their in-ear monitoring on stage.