Biography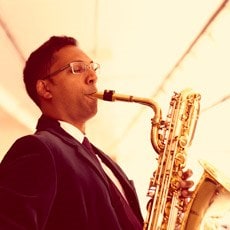 JUNO-nominated and Galaxie award-winning baritone saxophonist Shirantha Beddage (pronounced Shur-RAN-tha BED-da-gay) is a widely recognized performer, composer and educator from Toronto, Canada. He has played extensively across North America, and currently performs with his own quartet, as well as in groups led by Toronto artists Nancy Walker, Alex Dean, Mike Downes and Bruce Cassidy. His new CD, Identity (Addo Records, 2012) was nominated for Traditional Jazz Album of the Year at the 2013 JUNO Awards.
Shirantha is also the winner of the 2013 Galaxie Rising Star Award at the Montreal Jazz Festival for his compositions "Baker's Dozen" and "Winds of Change", both from Identity. The recording features musicians from Toronto and New York, including Dave Restivo (piano), Nathan Eklund (trumpet), Mike Downes (bass), Mark Kelso and Larnell Lewis (drums). Shirantha's debut album, Roots and Branches, was released in 2007 on Jazz Excursion Records.
He holds a Doctor of Musical Arts degree (D.M.A.) in Jazz Studies from the Eastman School of Music (New York, USA), a Master of Music degree in Jazz Studies from William Paterson University (New Jersey, USA) and a Bachelor of Music degree from Humber College (Toronto, Canada), where he now serves as head of Theory and Harmony in the Music department. He was previously Director of Jazz Studies at Columbus State University's Schwob School of Music (Georgia, USA) from 2006-2009.
For more information, please visit: www.shiranthabeddage.com
Shirantha is a Yamaha saxophone artist and performs on the YBS62.