Biography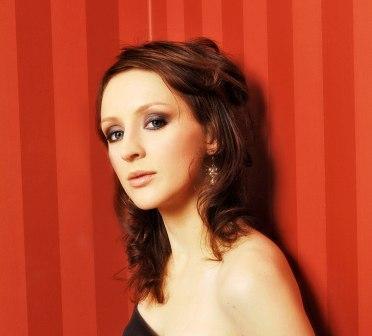 In Brief
Over the course of her 12 year career Sarah Slean has made six albums, starred in short films and a movie musical, published two volumes of poetry, held exhibitions of her paintings and shared the stage with four of the country's leading orchestras. She has been nominated for two Geminis, three Junos, and her records have been released in over 10 countries world-wide. Her latest album is called The Baroness, and an EP of its out takes entitled The Baroness Redecorates showcases her remarkable talent as a string arranger. Sarah has recently completed a degree in music and philosophy at the University of Toronto.
The Whole Story
Over the course of her 12 year career Sarah Slean has made six albums, starred in short films and a movie musical, published two volumes of poetry, exhibited original artwork across Canada and shared the stage with four of the country's leading orchestras. She has been nominated for three Junos, two Geminis, and her records have been released in over 10 countries world-wide.
Classically trained since the age of 5, she began writing songs at nine, mixing her early love of great symphonies, late 60's singer-songwriters and Hollywood musicals. When she first started playing clubs in the downtown Toronto circuit, Slean was enrolled in York University's piano performance Master Class. Her debut recording, Universe, first pressed as cassette, was an uncommon indie success story, landing the Pickering native a co-venture recording contract with Atlantic Records US and Warner Music Canada in 1998. It was the temporary end of her university career in Bach and Beethoven. However, Slean insisted that the record labels allow her a year-long grace period to write and record another independent recording. As unconventional as this move was, it remains an essential part of her philosophy. "I knew I wasn't ready. I still had so much to learn. To be fluent at my craft and on fire with something to say, which is all I wanted, there's no substitute for work and life experience. You can't stand over a tomato plant and scream at it to grow faster." This indie follow-up "Blue Parade" sold over 10,000 copies and has become quite the collector's item to loyal fans.
The experiment proved worthwhile. As Slean started touring into the northeastern States (appearing on celebrated public radio programs like Mountain Stage and World Cafe) and several times across her own country, she quickly acquired a devoted following. When the time came to make an official debut for Atlantic/Warner, she made another unconventional choice - the young, marvelously talented Hawksley Workman as her co-producer. Atlantic went for it, and the two twenty-somethings spent a month with engineer Clif Norrell (No Doubt, Jeff Buckley, Weezer, Rush ) at the world renowned Bearsville Studios in upstate New York where such acts as The Band, Bob Dylan, Jeff Buckley, R.E.M. and Patti Smith have made historic recordings. The result was Slean's official debut - the theatrical, cabaret-tinged, critically acclaimed "Night Bugs".
The album spawned a bona fide radio hit in Canada ("Sweet Ones") , earning Slean coveted opening slots (Rufus Wainwright, Blue Rodeo, Indigo Girls, Sarah Harmer) performances at the Genies, the GG awards (with the National Arts Centre Orchestra, sparking a Gemini nomination), Idea City, Sonic Bloom (with the Toronto Symphony Orchestra) and many more. In 2002, her efforts were rewarded with a Juno nomination for "Best New Artist".
After such a whirlwind three years, an artist would typically take time out to gather new material and begin the cycle again. But by then, at 25 years old, Sarah found herself in deep philosophical trouble. "Meaning collapsed," she describes. "I was lost. Everything I had been living up until that point felt unreal. The only way out was by drastic subtraction. The constant filling up and adding to existence had left me frantic and totally numb..." Not one for half-measures, Slean sold or gave up her apartment, gave away almost all of her belongings, rented a truck to carry her antique grand piano, and moved into a small cabin in the forest about five hours north east of Toronto. In Slean's mind at the time, the move was indefinite. "I didn't know if I would return to music, if I would live in the city again, if I would even continue the life of the 'person' I had become. My soul was commanding me to remove all false skins - it had been doing so for a while. I had just gotten to the point where I couldn't ignore the command any longer." These evocations of Thoreau may sound a touch Romantic, but Slean stresses the seriousness with which she made the decision. "It was a full leap of faith, no escape clause. I have always been a truth seeker, but never in my life have I felt so in danger of losing my grip. I felt the whole universe saying to me, stop running, be still."
In this self-imposed exile, it became apparent why, of all her earthly "stuff", the only things she had held on to were a piano and some paints.
Several epiphanies and moments of sublime silence later, Slean found herself creating again. "I didn't speak for weeks on end. I read Canadian poetry all day. I painted. I danced to Radiohead albums all night by myself. I fell asleep outside. I ate apples slowly. I had no script and I gave up thinking that was a bad thing. I also confronted my darkest parts and had crazy, almost mystical dreams. I stopped fighting myself and just listened. It was an incredible time." Soon, however, the season turned and mice were heading indoors. "That was my cue," she smirks. Existential crisis averted, it seems.
Returning to the city a full four months later, full of new music, she began recording with Peter Prilesnik (Sarah Harmer) and Dan Kurtz (Dragonette, Leslie Feist). The result was 2004's "Day One", a rousing story of trial and rebirth. The accompanying artwork tells the tale with Slean's paintings of blue winged angels grappling toward a resplendent castle in the distance - a castle wherein day, night, past, future - all opposites are reconciled (the "Temple of Now" she calls it). Various pages of the artwork can be assembled in different combinations to form larger images, all of which relate to the narratives described in the music. After its completion, Slean found herself opening for Bryan Ferry in the U.K., Ron Sexsmith across Europe, and nominated for a second Juno Award. She performed with the CBC Radio Orchestra, and a second time with the Toronto Symphony Orchestra. The album was picked up by Warner affiliates in Germany and France and consequently she toured both countries in 2005. The following year, Slean relocated to Paris to pursue two French national touring opportunities, once opening for avant-garde artist Buck 65, and once on her own, including such festivals as Le Printemps de Bourges, Les Femmes S'en Melent and Festival Biarritz. She also appeared on the hit TV show "Taratata" and was heard on French radio. It was a dream come true for the long-time admirer of French culture.
To ward off the returning feeling of surreality, Sarah spent ten days in a Vietnamese Buddhist monastery in central France before heading home.
"It's a wheel, a seasonal thing. One side of the cycle is exterior - touring, performing, and the other is deeply interior - the writing, the giving birth." It was once again time to write. Reunited with her antique piano, Slean started to knit together all of the threads borne of her Paris experience. The resulting album The Baroness, co-produced by Jag Tanna (I Mother Earth) is a spare, heartbreakingly honest work, and her clearest lyrical voice to date. "It was the end of an era, time to start telling the whole truth, to say goodbye to that which didn't serve me. I felt a whole decade coming to a close on this record." A limited edition EP of out takes entitled The Baroness Redecorates also showcases her remarkable talent as a string arranger, whetting fans' appetites for the more orchestral, dramatic side of Slean. These classical roots are also expressed in her burgeoning relationship with Toronto's Art of Time Ensemble. After several succesful collaborative performances, the group, comprised of classical and jazz virtuosi, invited Slean to record an album in July of 2009.
What's next for "one of the most compelling acts Canada has to offer" (TIME Magazine)? Staying true to her distaste for half-measures, Slean envisions a double-album - two different producers, two different approaches. Also twice the work, the budget, and the songs, but Slean isn't skittish. Not even after parting ways with Warner Canada in February. Rumour has it that her co-conspirators may be beloved Canadian songwriter Joel Plaskett, film composer Jonathan Goldmsith, a symphony orchestra and a drummer classified as "clunky funky", among others. Slean expects to commence recording in May.
.