Biography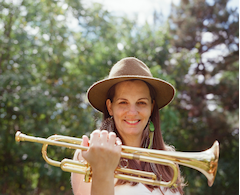 Rebecca Hennessy is an award winning Canadian trumpeter, vocalist, composer and bandleader who has been working professionally since 2006. As a leader and co-leader, Rebecca has released eight albums to date and has toured Mexico, Panama, Sri Lanka, Europe, USA and extensively in Canada. She has also performed and recorded with internationally recognized artists including Adele, Kevin Breit, Ron Sexsmith, Andy Kim, Owen Pallett, Broken Social Scene, Feist, Ab Baars and Ken Vandermark.
Rebecca was a recipient of the 2018 Emerging Jazz Artist Award by the Toronto Arts Foundation. In July 2016, Rebecca Hennessy's FOG Brass Band was nominated for both the Montreal Jazz Festival's Grand Prix de Jazz and the Galaxie Rising Star Award at the Halifax Jazz Festival. Immediately following this tour, FOG recorded their first full-length album, Two Calls, funded by the Ontario Arts Council and Canada Council for the Arts. This album entitled, Two Calls, (4.5/5 - All About Jazz) was included in various top 10 jazz releases of 2017 including the Ottawa Citizen's best Canadian jazz albums of 2018.
Her most recent album, All The Little Things You Do, is a beautifully written, performed and produced album that deals with love, grief and mental health. Being released between the death of her mother and the birth of her first child, this album is Rebecca's debut album as a singer-songwriter, merging all the musical elements of her diverse musical career. Her band on this album includes world acclaimed and celebrated creative musical voices including guitarist Kevin Breit (Sister's Euclid, Johnny Goldtooth, Norah Jones), pianist Tania Gill (Happiness Project, Tania Gill Quartet), bassist Michael Herring (Peripheral Vision, Bona Fide Scoundrels) and drummer Dave Clark (Rheostatics, Gord Downie).
Rebecca co-leads Way North, which features herself on trumpet, Petr Cancura on tenor saxophone, Michael Herring on bass and Richie Barshay on drums. Born out of the joy of playing together, these four musicians use jazz and improvisation to explore folk and world music. In 2016, Way North was invited to perform and teach workshops at Danilo Perez's Jazz Festival in Panama. While in Panama, they also made a trip to the Mamoni Nature Preserve where they performed and collaborated as part of the NGO Earth Train's Geoversity campaign.
In 2013/14, Rebecca was awarded an Ontario Arts Council grant to live and study in New York City where she studied with two world-class trumpeters and composers: Ralph Alessi and John McNeil. In 2007, Rebecca attended the International Workshop in Jazz and Creative Music lead by internationally renowned trumpeter and composer, Dave Douglas, with a scholarship from the Ken Page Memorial Fund.
Rebecca is the musical director for Massey Hall's annual Women's Blues Revue. She holds the second trumpet chair at Shaw Festival Theatre Orchestra and played lead trumpet for the North American Premiere of Strictly Ballroom at Princess of Wales Theatre. She can also be heard performing with Kevin Breit, Rita Chiarelli and Sweet Loretta, Sue Foley, The Woodshed Orchestra, DRUMHAND and Viva Mexico Mariachi.
Rebecca has jazz performance degrees from University of Toronto and Vancouver Island University.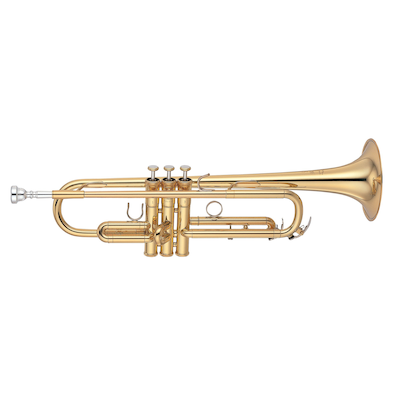 Bell: Yellow brass, Finish: Gold lacquer
Other Brass & Woodwind Artists