Biography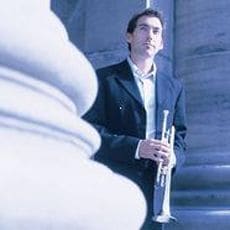 Recognized for his ability to create ambience, character, and drama in everything he performs, Paul Merkelo has been Principal trumpet for the Montreal Symphony Orchestra since 1995. He has held the same positions with the Rochester Philharmonic and New Orleans Symphony. He gained early orchestral experience as an extra with the New York Philharmonic and Pittsburgh Symphony. In 1990 Paul worked with Leonard Bernstein at the Tanglewood Music Center, was awarded the Speth scholarship for outstanding orchestral musician at his alma mater, the Eastman School of Music, and won their concerto competition. In 1999 Paul was sent as a Canadian musical ambassador to China for the inauguration of the Montreal Park in Shanghai. He was the featured soloist with the Shanghai Broadcast Orchestra, televised nationally. He has been soloist with the Montreal Symphony Orchestra, including in the premieres of two concertos written for him, and also on tour in South America and New York. He has also been featured with the National Arts Centre Orchestra in Ottawa, I Musici de Montréal, Les Violons du Roy of Quebec City, the Rochester Philharmonic, the New Orleans Symphony, and the Eastman Wind Ensemble. Paul has appeared as soloist and chamber musician numerous times with the American Chamber Orchestra in France. Most recently he has been on the faculty of the Pacific Music Festival in Sapporo, Japan with Charles Dutoit. In 1998 Paul made his New York debut at Lincoln Center with the New World Symphony Orchestra and Michael Tilson Thomas.
Paul is on the music faculty at McGill University. In collaboration with the Montreal Symphony Orchestra, he has created a scholarship program open to contestants of the annual MSO competition, which awards aspiring young musicians financial aid for their pursuit of a musical career.
Paul performs on the new YTR9445CHS Artist Xeno Chicago C and B-flat Trumpets.
Reconnu pour sa "capacité à créer une ambiance, du caractère et du drame dans tout ce qu'il joue", Paul Merkelo est trompette solo de l'Orchestre symphonique de Montréal depuis 1995. Il a occupé le même poste avec le Rochester Philharmonic et la New Orleans Symphony. Il a fait ses armes comme surnuméraire dans la Philharmonie de New York et la Pittsburgh Symphony. En 1990, M. Merkelo a travaillé avec Leonard Bernstein au centre musical de Tanglewood, a été récompensé par son alma mater, la Eastman School of Music, de la bourse Speth pour l'excellence en tant que musicien d'orchestre et a remporté le concours de concerto de cette même institution. En 1999, M. Merkelo a été choisi comme ambassadeur musical du Canada en Chine pour inaugurer le Parc de Montréal à Shanghai. Il a aussi été le soliste invité lors d'un concert télévisé avec le Shanghai Broadcast Orchestra. Il a joué en solo avec l'OSM dans les créations de concertos écrits spécifiquement pour lui ainsi que lors de tournées en Amérique du Sud et à New York. Il s'est également produit avec l'Orchestre du Centre national des arts d'Ottawa, I Musici de Montréal, Les Violons du Roy de Québec, le Rochester Philharmonic, la New Orleans Symphony et le Eastman Wind Ensemble. Paul Merkelo a souvent joué comme soliste et musicien de chambre avec l'American Chamber Orchestra en France. Plus récemment, il a été membre de la faculté du Pacific Music Festival à Sapporo au Japon avec Charles Dutoit. En 1998, il a fait ses débuts new-yorkais au Lincoln Center avec le New World Symphony Orchestra sous Michael Tilson Thomas.
Paul Merkelo est membre de la faculté de musique de l'Université McGill. En collaboration avec l'OSM, il a créé un programme de bourses accessibles aux concurrents du concours annuel de l'OSM, qui accorde une aide financière à des musiciens de la relève afin qu'ils puissent poursuivre leur carrière musicale.