Biography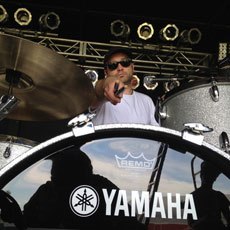 Nik Pesut –"The Suit" as his friends in the studio world know him–has been blasting beats since the tender age of three when his parents caught him making drum kits out of pots and pans from the cupboards to lay down beats! A Vancouver native, Nik's early musical interest inspired his parents to put him in private lessons at a local music store he frequented as a child.
With many years of formal and self-instruction Nik has attracted many bands and artist to seek him out for their projects. He has been consistently working with a variety of artists on stage and in the studio. Nik is currently on tour with pop sensation Carly Rae Jepsen who is climbing the charts with the hit single "Call Me Maybe".
Having many musical Influences that range from British Metal band, Iron Maiden to the contemporary sounds of TOTO and Michael Jackson, he develop his own unique feel and style which consequently allows him to adapt to many musical setting. With his ability to perform a variety of musical styles, his resume varies from Industrial Metal to top 40 Pop!
Credits:
"Templar" Under the Sun (EMI Canada) 2000-2002 Studio/Touring
"The Dirtmits" Get On (Sonic Unyon) 2002 Studio/Touring
"Holy McNarland" (Universal Music Canada) 2002 -2007 Touring
"Holy McNarland" Chin up Buttercup (Curve Music) 2007 Studio
"Hurst" Wonderlust (Fat Farmer Ent/Maple Music.) 2005-2007 Studio/Touring
"Holy McNarland" Live at the Great Hall DVD (Curve Music) 2008
"Econoline Crush" 2009 Touring
"Winter of Freedom" 2008-2010 Studio/Touring
"Faber Drive" Give Him Up (604 Records/Universal Music Canada) Studio
"Jakalope" Things that go Jump in the Night (604 Records/Universal Music Canada) 2008-Present Studio/Touring
"Lousie Burns" Mellow Drama (Light Organ Records) 2011 Studio
"Daniel Wesley" (604 Records) 2012 Live
"Matt Webb" Coda and Jacket (604 Records/Universal Music Canada) Studio/Touring
"Carly Rae Jepsen" Curiosity (604/Schoolboy/Interscope Records) 2010-Present Studio/Touring