Biography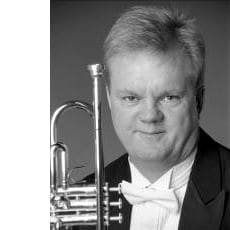 Miles Newman is the Principal Trumpet of the Regina Symphony Orchestra and Solo Trumpet of the Regina Symphony Chamber Players. He is presently the Head of Winds & Brass at the Conservatory of Performing Arts, University of Regina where he teaches the trumpet studio. Miles also instructs the trumpet studio for the Department of Music at the University of Regina.
In 1986, after four seasons as Principal Trumpet of the Saskatoon Symphony, Miles began a Masters program in trumpet performance at Arizona State University with Professor David Hickman. After a year in Arizona, Miles returned to Canada for two years of study in the Advanced Studies in Music program at The Banff Centre before moving to Calgary.
Miles moved to Regina from Calgary where he had played with the Calgary Philharmonic for three seasons. He taught privately in Calgary in addition to teaching at the Conservatory of Music at the University of Lethbridge. Performances included the Calgary run of 'Les Miserables' and 'Phantom of the Opera'. Miles was Principal Trumpet of the Lethbridge Symphony and was a member of the Bow Valley Brass and the Southern Alberta Brass Quintet.
Miles has both Bachelor of Music and a Bachelor of Education degree from the University of Saskatchewan. Miles has taught from the beginner to the college level and all levels of adult trumpet students for the past twenty-nine years. His teaching encompasses all styles of trumpet music. In addition, he serves as an adjudicator at music festivals across the Prairie Provinces.