Biography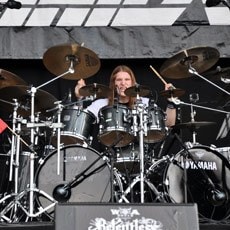 Mike Harshaw started playing the drums at age 13. It didn't take very long for Mike to become extremely passionate about playing the drums.
Hailing from Grimsby, Ontario in Canada, Mike was born on June, 4, 1988.
Living in a small town called Grimsby…there wasn't much to do. Mike had three best friends who had a three piece band. Inspired by his friends Mike found himself wanting to play music himself. Not long after that he purchased his first drum kit and never looked back.
Mike started out playing for a couple local acts playing around Toronto/Hamilton area. A few years later Mike was recruited by Canadian metal band "Mastery" fronted by Billy Milano (SOD/MOD). Mike went down to Austin, Texas for half a year to write and record an album with the Mastery crew. After playing with Mastery for a couple years Mike learned that the Canadian metal band Annihilator was looking for a drummer. Mike put together an audition tape and ended up landing the gig. Mike is still with Annihilator to this day touring internationally and appearing on the latest record.
In addition to playing with Annihilator, Mike also plays with a local act called Prismind. In between Annihilator and Prismind, Mike plays with other rock, pop and metal acts throughout the Niagara region and the greater Toronto area. As well as being with Yamaha…Mike is a proud endorser of Los Cabos drumsticks of Canada.