Biography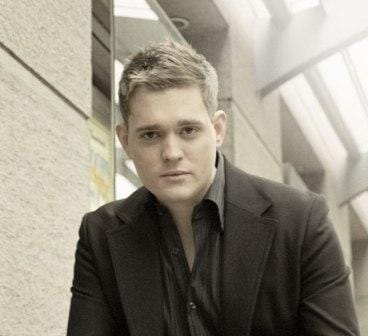 Ask Vancouver native Michael Bublé how he felt going in to record his third studio album, Call Me Irresponsible, and this artist with 11 million albums sold and two Grammy nominations under his belt can sum it up in one word.
"Terrified," he says simply. Terrified?
"Completely, because I knew that it had to be better than the first two — that it had to show growth without alienating anyone, and that's a tough line. So I sat there from the very beginning and came up with the songs, put together the skeleton, and thought about what arrangers I would hire. I even ended up at the mastering session, which artists rarely attend. I wanted to be involved in every aspect because I wanted it to be conceptually beautiful."
Bublé has certainly achieved success on that front. As with his previous two 143/Reprise bestsellers, 2003's self-titled debut and 2005's multi-platinum follow-up It's Time, Call Me Irresponsible boasts more of Bublé's buoyant, modern interpretations of standards from a variety of eras, including songs by such greats as Leonard Cohen, Eric Clapton, Cy Coleman, Gamble and Huff, and others, as well as two self-penned originals, including the first single, the uplifting love song called "Everything."
But it's hardly business as usual for this Vancouver native. It never is for Bublé, whose irrepressible spirit, engaging humor, and confident charisma once led the New York Times to call him "an entertainer who is completely at home on the stage." His new CD, which he calls "my remark on the state of love," contains a depth of feeling that will surprise and delight long-term fans and impress those new to his music. "To me, what's different about this CD is that it has a certain raw emotion because I recorded many of these songs live in the studio." Bublé introduces the electrifying, impeccably orchestrated set to follow with the opening track, Cy Coleman's "The Best Is Yet To Come," (made famous by Sinatra, Ella Fitzgerald, and others). Then there's the exhilarating, salsa-flavored "It Had Better Be Tonight," written by Johnny Mercer and Henry Mancini, which Bublé attacks with a hot-blooded vengeance—"another very sexy song…and edgy." From there, he takes on "Me and Mrs. Jones," the 1972 Gamble and Huff classic popularized by soul singer Billy Paul. "David (Foster) brought it to me, I'd never actually heard it before," Bublé says. "We wanted it to be authentic and tell the story." Next up is Leonard Cohen's "I'm Your Man" from the Canadian singer/songwriter's 1988 album of the same name. "I always thought it was a wonderful song — desperate, sexy, and dark," Bublé says. "I actually called Leonard and told him I was afraid of performing it live. When he asked me why, I said because he'd written too sexy of a song and I was afraid men were going to throw their underpants at me. He just laughed and said, 'I wouldn't worry too much about that.'"
Then there's a swinging, hep-cat version of Mel Tormé's 1962 pop hit "Comin' Home Baby," featuring vocals from Philly soul faves Boys II Men; and a sentimental, self-penned ballad "Lost," co-written with Chang and Canadian singer-songwriter Jann Arden. "It's an anthem for star-crossed lovers," Bublé says. "Sometimes relationships don't work out because love isn't enough, but that doesn't mean you have to discard the person. There is a way to end a relationship and still be there when they need you. That's basically what it's about."
A languid, emotional rendition of Eric Clapton's ballad "Wonderful Tonight," on which Bublé duets with Brazilian singer-songwriter Ivan Lins, whose work has been covered by everyone from Sarah Vaughn to Ella Fitzgerald follows. "I've always been very sentimental about that song," Bublé says. "What is interesting about that track is here I am, a 31-year-old guy from Canada who's singing a song that means so much to me with a 61-year-old man from Brazil, who's singing in his own language but it means the exact same thing to both of us."
Other highlight's include two of Bublé's original songs, including the acoustic-guitar driven "Everything," co-written with Amy Foster-Gillies and Alan Chang (who also co-wrote Bublé's touching hit ballad "Home" off It's Time) and produced by fellow Canadian Bob Rock (Bon Jovi, Metallica, Mötley Crüe, Bryan Adams). "I wrote that song about the great happiness of real love, but at the same time I was making a statement about the world," Bublé says. "We're living in really crazy times, and I wanted to say that no matter what's happening, this person in my life is what really makes it worthwhile."
Rounding out Call Me Irresponsible is Frank Sinatra's "That's Life," which, in Bublé's hands, becomes a powerhouse complete with a full choir. "I brought the song to a wonderful guy named Mervyn Warren, from the acappella group Take 6 and said, 'I want to take this to church; I want to make it a huge gospel tune.' So he brought in a choir and I love it. It's one of my favorite things about the record."
To help him capture the intensity in the songs' meanings, Bublé turned to his long-standing team of producers, which include 14-time Grammy winner David Foster (Barbra Streisand, Céline Dion, Josh Groban) and producer/engineer Humberto Gatica (Elton John, Destiny's Child, Michael Jackson). "We definitely have a great working relationship where I think I interfere just enough," Bublé says with a laugh. "I mean, David is the greatest producer in the world. They're both so amazing, I couldn't do it without them."
Foster first discovered Bublé seven years ago when he caught the aspiring star performing at the wedding of former Canadian Prime Minster's daughter. The son of a British Columbia-based salmon and herring fisherman, Bublé spent the months his parents were away with his music-loving Italian grandfather, who introduced him to the singers who would become Bublé's idols: Bobby Darin, Dean Martin, Sinatra, Ray Charles, and Elvis Presley. "These guys were triple threats," he says. "They could sing, they could dance, they could act. They were entertainers, and I believe that's a lost art now."
Bublé honed his skills as a showman through years of performing in hotel lounges and smoky bars — gigs his grandfather, a plumber, helped the underage singer secure by trading his plumbing services. By the time Foster met him 2000, Bublé already knew exactly what he brought to the table — a warm, engaging voice and unassailable taste in music. His debut album was an international smash, going Top Ten in the U.K. and Canada, and earning him his first Juno award for Best New Talent in 2004. The follow-up, It's Time, sold more than 5.5 million copies, and has remained on the Billboard Traditional Jazz charts for a staggering two years, and in the Number 1 slot for more than 80 weeks, an all-time record.
But along with his passion for creating great music in the studio, performing on stage is pure paradise for Michael Bublé. "I just love getting in front of people," he says. "It's so important to be in touch with your audience. They've paid their money. I want them to be entertained. If they want to cry or laugh or dance or sing or yell, they can do whatever they want. My responsibility is just to take them away."