Biography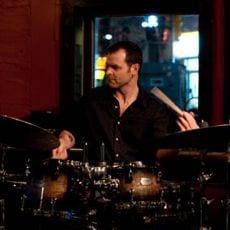 Originally hailing from Belfast, Northern Ireland, Mark Kelso has made Toronto, Canada his home for quite some time. Not only is he a skilled musician who plays drums and an assortment of percussion, but he is also a talented Singer, Producer and Composer as well.
Marks ability to play a wide variety of musical styles has helped him become one of Canada's most sought after drummers. An all around player, Mark has worked with Gino Vannelli, Molly Johnson, Holly Cole, Folk legend Ian Tyson, Peter Murphy (Bauhaus) Amanda Marshall, Matt Dusk, Amy Sky, Randy Brecker, Michael Brecker, Donny Osmond, Shirley Eikhard, Hilario Duran, Paquito D'Rivera, Michel Cusson, Alain Caron, Jesse Cook, The Montuno Police, Brian Hughes, Jane Bunnett, Soul Stew, Carol Welsman, Gordie Sampson, Emilie-Claire Barlow, Mary Jane Lamond, Joe Sealy, Marc Jordan, Bruce Guthro, Jane Siberry and Shania Twain.
Aside from playing many TV and radio jingles and movie soundtracks Mark has also been featured in Drums, ETC, Canadian Musician and Modern Drummer magazines. Mark has also been a featured clinician at the Montreal Drumfest and Cape Breton Drum Festival.
Mark endorses and is a featured clinician for Yamaha Drums, Paiste Cymbals, Remo heads, Headhunters drumsticks and Orion Percussion.
His latest CD entitled Lost Kingdoms is an exciting blend of African, Brazilian, Celtic and Pop influences. Featuring 12 original compositions of instrumental and vocal tunes, there is also some fine playing by some of Canada's finest musicians. Mark says - "I didn't want to do a typical drummer CD. I wanted to make sure that above all the music was melodic and that it felt good. I put a lot of thought into the concept of the whole thing and that's why it has taken me such a long time to do it properly. I can honestly say that it's something that I'm really very proud of."