Biography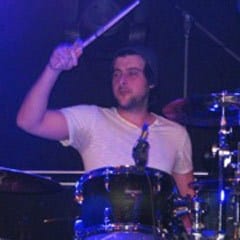 Mark Bachynski has been drumming since he was 14. Before his parent bought him a kit he forged one out of Household items and whittled sticks from tree branches in his back yard. He has been heavily involved in the Halifax music scene since.
Playing in hundreds of bands over the years Mark has settled down with hometown Juno winning rapper "Classified"
He is also the founder of the Award winning, ECMA, MNS nominated up and coming Hip-Hop band "The Caravan"
Mark uses Yamaha Bitch Stage Customs at home and the Absolute Maple customs while on the road and has just converted to Paiste Formula Cymbals.
"I fell in love with Yamaha drums after using them for backline at a few festivals. I use the higher end Absolutes while I'm touring with Classified, they are the most consistent drums I've used time and time again easy to tune and a
joy to play. The "Stage Customs" fit my budget without compromising sound, the kick and toms on that kit are bright and punchy, perfect for live Hip Hop."