Biography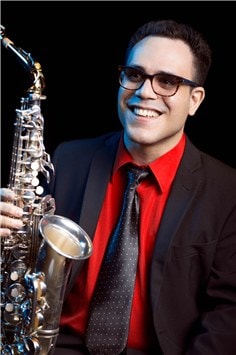 Winner of the Grand Prix de Jazz General Motors 2006 at the Montreal Jazz Festival (David Virelles Quintet) and Galaxie Rising Star 2010 at the Halifax Jazz Festival (Rich Brown & Rinsethealgorithm), Grammy Nominated and Juno Award Winning artist (Hilario Duran Latin Jazz Big Band), alto saxophonist Luis Gonzalez Deniz was born in Camaguey, Cuba on April 21st, 1983.
In 1993, Luis started his musical studies at the Escuela Vocacional de Arte Luis Casas Romero in his hometown of Camaguey, where he subsequently continued at the Escuela Profesional de Musica Jose White.
Luis later moved to the Cuban capital, where he graduated at the prestigious Escuela Nacional de Musica (ENA), the alma mater of several of Cuba's most prominent musicians. After graduating with high honors, he was awarded 1st place on the international jazz competition JOJAZZ, held in Havana (2003) and also kept a busy schedule, both teaching saxophone at the National School of Music and playing locally and touring internationally as well, Luis has performed and given workshops all over Cuba, Australia, Japan, USA, Canada, Bermuda, Spain, Germany, France, Belgium, England, Ireland, Scotland, Luxembourg and Switzerland.
Upon his arrival in Toronto in 2004, Deniz has performed/recorded with some of Toronto and International most outstanding musicians, including Mark Turner, Tony Allen (Fela Kuti's Drummer) Hilario Duran, Luis Mario Ochoa, Paquito D Rivera, Horacio El Negro Hernandez, Reg Schwager, Dafnis Prieto, Francisco Mela, Barry Romberg, Darren Sigesmund, Cubanismo, Rich Brown's Rinsethealgorithm and Rich Brown & The Abeng (currently),Mark Kelso & the jazz Exiles, NOJO, Kirk MacDonald Jazz Orchestra, Roberto Occhipinti,Canadian Idol jazz Orchestra, The Art of Jazz Orchestra, Jane Bunnett, Canada's Global Orchestra Kune, among others.
He has also shared the stage with international figures such as Barry Harris, Howard Johnson, Ray Vega, Steve Turre, Randy Brecker, Donald Harrison, Ingrid Jensen, Mark Feldman, Gary Versace and Hermeto Pascoal.
One of the highlights of Luis's career as an educator has been to be a part of Toronto's most prestigious Humber College, where Luis has been a faculty member for over a year, as a private saxophone teacher and small and large ensemble instructor.
With an impressive career as a sideman and saxophonist, Luis keeps on working on his own development, in 2010 he was awarded a Canada Council for the Arts Grant to study with innovative saxophonist Greg Osby in New York City.
With all this achievements, Luis Deniz is definitely a name to look for in the future of jazz.
Luis exclusively plays the Yamaha YAS62S Saxophone and D'addario reeds and accessories.