Biography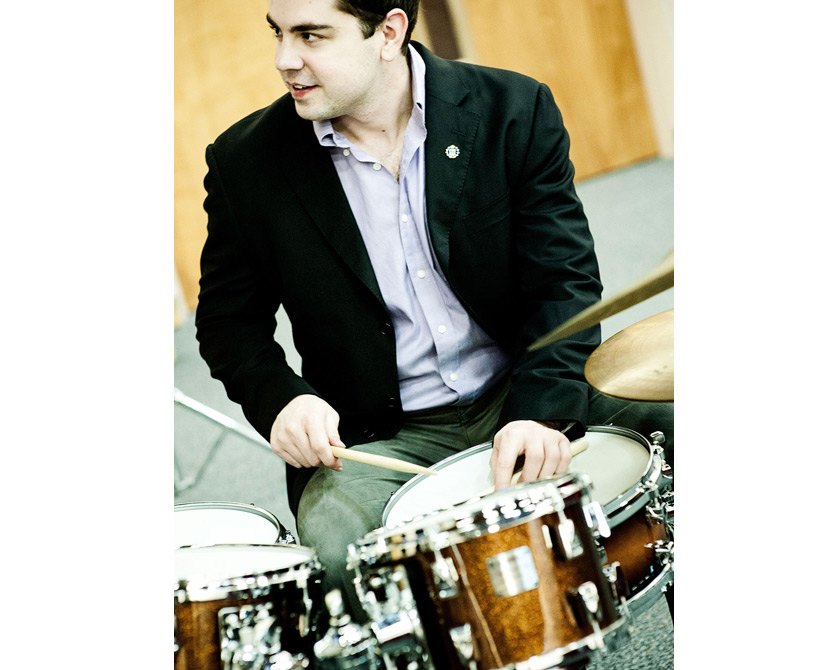 Alberta born, legally blind drummer Karl Schwonik grew up on a farm near Gwynne where he was exposed to countless musical situations ranging from polka to jazz. Fresh out of high school, Schwonik embarked on a tour with 2-time Canadian Country Music Award Nominee Heather-Dawn. This was followed by an invitation to study at the Banff Centre where Schwonik was the youngest participant ever in the long-term career residency program.
Still in his mid-20's, Schwonik has an extremely busy schedule; he has completed over 20 substantial tours throughout North America as a leader. In his travels, Schwonik has had the opportunity to perform in diverse venues including a country barn, Carnegie Hall and the John F. Kennedy Center! His latest recording on Chronograph Records, 1+4, was #1 on Canadian jazz radio charts for nearly 2 months. Both 1+4 and Schwonik's first album, Visions From the Farm, were nominated for a Western Canadian Music Award for 'Jazz Recording of the Year'.
In 2008, Schwonik founded the Wetaskiwin Jazz Society in Wetaskiwin, AB. The WJS strives to build awareness for the arts in the Central Alberta region with its three main programs: a summer Jazz Camp, Jazz-in-Schools and community concerts. In 2011, Schwonik joined the Board of Directors for the Alberta Foundation for the Arts. The AFA is a government agency responsible for disbursing nearly $30M annually in grants and scholarships to artists and arts organizations in Alberta.
In demand internationally as a guest artist and instructor, Schwonik has taught students of all ages at well over 200 educational institutions. He regularly lectures on a broad range of topics in jazz, music business and artists coping with disabilities. Some of these institutions include: U of Toronto, Indiana U., Brandon U., U of Lethbridge, Denver School of the Arts, and Triton College (Chicago).
Among the many awards and distinctions Schwonik has garnered are the Lieutenant Governor of Alberta's Emerging Artist Award, the VSA Arts International Young Soloist Award, the AFM International Diversity Award, the Queen's Jubilee Award, and was named one of Calgary's 'Top 40 Under 40' (2009) by Avenue magazine. His projects, research and initiatives have been supported by the Canada Council for the Arts, Alberta Foundation for the Arts, Social Sciences and Humanities Research Council, Anne Burrows Music Foundation and numerous others.
Schwonik has been fortunate enough to share the stage with many inspiring musicians including Dave Douglas, Chucho Valdes, Sonny Fortune, David Braid, Jens Lindemann, P.J. Perry, Tommy Banks, Hugh Fraser, and Rémi Bolduc.