Biography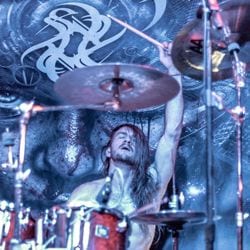 Enthusiastic and vivacious drummer, Joey Muha, has been captivating audiences since completing his first tour at the early age of 16. Whether it's playing small bars for 6 people or massive amphitheaters that hold 60,000 people, Joey's drumming has always brought him to new and unique live settings. This includes performing in 15+ countries across North America, Europe and Asia.
In between tour cycles, Joey has created his own brand as a solo act as he actively creates engaging online videos which have garnered him 150,000,000+ combined video views and a loyal online community of 750,000+ followers.
Stamp out any preconceived notion of what you think a drummer SHOULD be! Joey maintains an enjoyable and entertaining atmosphere while pushing the boundaries for what can be achieved on a drum set. Presenting the world with unique and engaging drumming in relatable ways is what he's all about!
Joey currently plays a Live Custom Oak kit in Blackshadow Sunburst in the following sizes: 10x7", 12x8", 14x13", 16x15", 22x18", 14x.55" with Yamaha cymbal stands, snare stand, hi-hat stand and HEX Rack.