Biography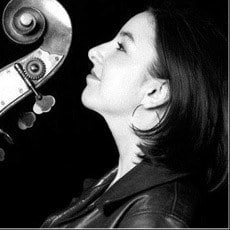 Juno-nominated bassist, composer, bandleader, and educator Jodi Proznick has earned a reputation as one of Canada's finest jazz artists. She has won numerous National Jazz Awards, including Bassist of the Year in '08 and'09. Her group, the Jodi Proznick Quartet, was awarded the Acoustic Group of the Year and Album of the Year in '08 and the Galaxie Rising Star at the Vancouver International Jazz Festival in '00.
In addition to leading her own group, Jodi has performed with many of Canada's top jazz musicians, including PJ Perry, Don Thompson, Kirk MacDonald, Brad Turner, Hugh Fraser, Oliver Gannon, Dee Daniels, Phil Dwyer, and Laila Biali. She is regularly in demand to perform and record with visiting jazz artists including Michael Bublé, Byron Stripling, Michael Feinstein, David "Fathead" Newman, Bucky Pizzarelli, Ed Thigpen, Jeff Hamilton, Peter Bernstein, Charles McPherson, Seamus Blake, George Coleman, Sheila Jordan, Mark Murphy, Harold Mabern, Eric Alexander, and Lewis Nash. In addition to recording her own Juno-nominated CD as a leader, Jodi has been featured on over 30 recordings as a sideman.
Jodi began playing bass at the age of 13 under the direction of her father David, an award-winning music educator. In '93, Jodi received the General Motors Award of Excellence, establishing her as one of the top young musicians at Musicfest Canada, and then went on to receive a scholarship to study bass at McGill University in Montreal. After graduating, Jodi played with many of the top musicians in Montreal, including Christine Jensen, Andre White, and Greg Clayton. She was awarded the IAJE Sisters in Jazz award in '98 as one of the best up-and-coming female jazz musicians.
Jodi moved to Vancouver in '00, where she now lives with her husband and collaborator, pianist Tilden Webb, and young son Tristan. Her personal highlights include opening for Oscar Peterson in 2004, performing as a featured soloist with the Vancouver Symphony Orchestra, and recording numerous times for CBC Radio. Another highlight in Jodi's career was when she was asked to be the featured bassist in the 2010 Vancouver Olympic Winter Games' closing ceremonies and soundtrack.
Jodi's deep passion for education lead her to pursue a Masters Degree in Education at Simon Fraser University. She is on faculty at Capilano University and Kwantlen Polytechnic University, and has been a guest adjudicator and clinician at many festivals, colleges, universities, and conferences across Canada.
Jodi is a Yamaha Canada Artist / Educator.
She has been described as "… armed with an arsenal of talent sure to develop recognition as one of the finest bassist in the jazz world today" (Ejazznews), "… (playing with) an infectiously in-the-pocket sense of groove" (Cadence Magazine), "… a jazz bassist with great time and a rock-solid sound " (Katie Malloch, CBC Radio), " a great player, who plays with intoxicating passion" (RivitingRiff.com), and "a wonderful bassist who really digs in and plays from the heart" (David Fathead Newman - Coda Magazine interview).