Biography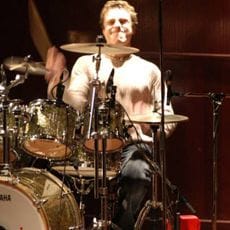 Jeff Salem started out performing with several local rock, jazz, latin, country and tribute acts throughout the Toronto area.
This eventually led him to performing and recording with well known rock bands such as Fist (A&M), Sword (Aquarius), Saints & Sinners (Savage/BMG), Lee Aaron (Attic), Robin Ford, Randy Bachman as well as Blues artist Coop De Ville. He has also freelanced with many other artists throughout the U.S. Aside from the various recording artists, Jeff has performed on many cruise ships including Disney Cruise Lines as a player in the orchestra, show band as well as a band leader. Jeff is known to be a versatile drummer, performing and reading all styles of music. Jeff had the opportunity to perform on a millennium cruise to Antarctica working with various artists including The Chieftains, Diana Krall, Natalie McMaster, Art Garfunkle and with the actor Dan Ackroyd.
Jeff has most recently recorded drums on the debut CD for 2004 Canadian Idol winner Kalan Porter. Jeff keeps busy also recording many movie sound tracks for CBC's National Film Board.
Jeff is currently involved in the Educational Seminars in Percussion program (ESP) sponsored Yamaha drums. It involves going into local schools and performing drum clinics for the percussion and other music students. During this time Jeff has become a great public speaker for percussion and music arts motivating music students where ever he goes. The program is designed to support music directors by motivating the students to either start or further their percussive studies. Jeff has performed at over 400 schools in the past 12 years. In his clinics Jeff promotes his own educational series "TIPS" Total Integrated Percussion Studies with three popular videos: Groove a Diddles, Drumology Presents, and Double Bass Vocabulary-Volume One.
Jeff has performed in over 60 countries and at many music trade shows including the NAMM show in Anaheim, CA and Nashville, TN., the Musikmesse in Frankfurt Germany, Music West in Vancouver BC, Cape Breton International Drumfest in Sydney Nova Scotia, Guitar Workshop Plus in Oakville, ON and Canadian Music Week in Toronto ON.
Jeff Salem is a freelance writer for the magazines Canadian Musician and Modern Drummer. He also maintains a large roster of students for private instruction at his teaching studio in Brampton, ON called TIPS (Total Integrated Percussion Studies).