Biography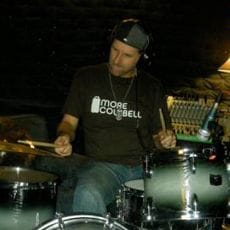 Jayson Brinkworth is an accomplished drummer/percussionist/vocalist who grew up and still makes his home on the Canadian Prairies in Regina, Saskatchewan. He has enjoyed many exciting moments in his 23 year career of playing, writing, teaching and recording music. From countless live gigs and recordings , to educating through private lessons at Music In The House which he is co-owner, his interactive percussion program in the Regina Public School Board, as well as several clinics and workshops throughout Western Canada. His influences are as diverse as the music he performs and range from Jeff Porcaro, Steve Gadd, Bernard Purdie, Billy Ward, Rick Marotta, to Buddy Rich, Tony Williams, Elvin Jones to Eddie Bayers, Billy Thomas and Buddy Harman. His playing philosophy is the same as his philosophy of life? Be respectful of music and people, always give 110%, make the music feel good and have fun.?
His resume of artists he has played live and recorded with is quite impressive and looks like a who's who of the Canadian music scene. Some of these artists include Aaron Lines, Patricia Conroy, Shaun Verreault (Wide Mouth Mason), Bet.e, Deborah Cox, JD Fortune (INXS), One More Girl, Beverly Mahood, Jack Semple, Shane Yellowbird, Amanda Wilkinson, Lisa Brokop and most recently Aaron Pritchett. His musical approach to the drumset and percussion in general has led to him being very busy as he brings a valuable combination of groove and creativity to every gig, no matter what style of music he is playing.
For his Yamaha drums, he prefers the Birch Absolute or the Oak Customs.? No matter what line of Yamaha drums I am playing, the musicality and consistency are second to none?. Recently, Jayson pick up a new ROCK TOUR set and he emailed us, -Just tracking with this Rock Tour kit, wow do these drums have tone and character !!!!!! I would use them on anything at all, SO impressed.
Thought you would want to know. Thanks Jayson!!