Biography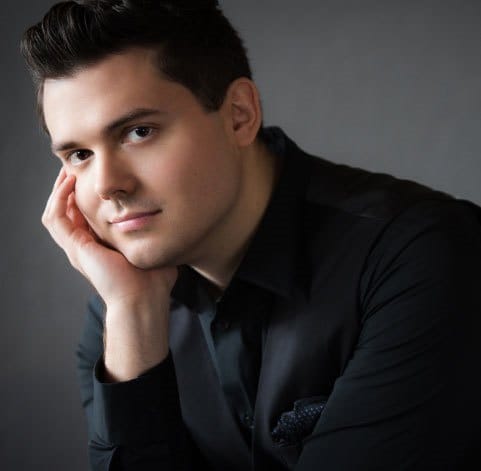 Described by critics as "a piano sound-colour magician" (Muzikos Barai, Vilnius), "evocative and mystical" (New York Classical Music), "technically perfect" by Belarusian First Radio, and "a virtuoso with the most exquisite touch" (Freethought Today, Madison), "an important musician, pianist, scholar, and writer within the great art of serious music" (David Dubal, WWFM/Juilliard faculty emeritus), Jarred Dunn is featured on the 2018 CBC Top 30 Under 30: Hot Canadian Classical Musicians (CBC) and in 2019 he hosted This is My Music. Mr. Dunn is the First Prize and Concerto Award winner of the 2018 Lithuanian International Chopin Competition (Vilnius), leading to his premiere with the Lithuanian Chamber Symphony in November 2018 and a finalist/prizewinner in the 1st Jan Hofmann International Competition in Kraków. His first recording, Chopin and Debussy, was produced by Dan Barker (Freedom From Religion Foundation) and recorded by Audio for the Arts (Madison, WI). He has been heard on the CBC, WQXR New York, Belarus First Radio Minsk, and Freethought Radio-Television. He is particularly interested in the works of Chopin, Brahms, Bach, Mozart, Debussy, Liszt, Szymanowski, and H.M. Górecki.
Upcoming appearances in the 2019/20 season include Brahms Piano Concerto in D Minor, Op. 15 with York Philharmonic Orchestra (Richmond Hill Performing Arts Centre) and Mozart Piano Concerto in A Major K488 with Niagara Symphony Orchestra (First Ontario Performing Arts Centre). In 2020/21 he will join the McGill Symphony Orchestra with Brahms Piano Concerto in D Minor, Op. 15 and Toronto Sinfonia with Beethoven Piano Concerto in B-Flat, Op. 19.
Mr. Dunn has performed worldwide as a recitalist, chamber musician, and soloist with orchestras, and his career has included invitations to perform in Poland, Hungary, Belarus, Slovakia, Germany, Spain, Portugal, France, Malta,The Czech Republic, England, United States, Canada, China, and Australia. He enjoys playing solo recitals, a capacity in which he performs regularly. Following an all-Chopin recital in Warsaw, one critic wrote,
Of course, the playing of the brilliant Canadian performer did not lack the "Polishness" that he had a chance to learn thoroughly from the best Polish teachers during his Master's Studies in Katowice or later in Bydgoszcz. The "Polishness" was audible in every piece: from Nocturne in C minor op. 48 with its drama that was built by the pianist from the very first chords and the tragic ending, through Scherzo in E major op. 54, played with a great sensitivity, brilliant sound and technical mastery, to the brilliant Polonaise Fantaisie op. 61, a piece that is very complex harmonically and difficult in many aspects. Jarred Dunn showed his virtuosity, amazing sense of style, elegance and noble - but not excessive - sensitivity, passion - without being pathetic, beautiful piano and powerful forte, melodious - but not sugary - cantilena, broad phrasing and very rich, nuanced range of sounds. Nina Sankari, The Atheist Review, Warsaw
In his repertoire are over thirty concertos, representing his interest in this genre of performing. He has appeared as a concerto soloist with the Torun (Poland), Etobicoke (Toronto), Niagara (St Catherine's), Sinfonia Toronto, Rose (Brampton), Vilnius Chamber Symphony (Lithuania), Eurasian Chamber (Berlin), Budapest Chamber (Hungary), and State Radio and Television Minsk (Belarus) Orchestras. He has collaborated with conductors Bradley Thachuk, Denis Mastromonaco, Anna Duczmal-Mroz, Przemysław Fiugajski, Jakub Chrenowicz, Erki Pehk, Sabatino Vacca, Alexander Liebreich and Nurhan Arman.
Noted by Tonebase Piano as "a revered pedagogue," Mr. Dunn has given lectures, workshops and master classes at University of Puget Sound (Seattle), MTNA Seattle, Canadian Music Centre (CMC), Chopin University of Music (Białystok), Vilnius Academy Pre-College (Lithuania), ORMTA branches across Ontario, Collegeum Musicum Conservatory (Toronto), North York Suzuki School (Toronto), International School of Music in Sydney, and Ravenswood School in Sydney (Australia). His articles have been published in the Canadian Music Educators' Journal and Canadian Music Teacher. Of special importance to him was research at the former site of Auschwitz-Birkenau and music during the Holocaust, culminating in an article about Anita Lasker-Wallfisch (former cellist of the Auschwitz Women's Orchestra). His interest in teaching extends to appearances on Freethought Matters, in a two-part series "Classical Music with Jarred Dunn".
He has been sought for adjudicating in competitions including the Burlington, Davenport, Peel, North York, Stirling, Rockland, Merriam, and the Discover Canada National Research Competition in Poland. He holds top prizes from the Grand Prize Virtuoso (London), Verona Zinetti International, D. Vincenzo Vitti, and Rome Academy Award Competitions (both in solo piano and chamber music). In 2013, he received the Teacher Recognition Award from the Retired Teachers of Ontario and in 2012 at the University of Toronto he received the W.O. Forsyth Graduation Award, given to the most meritorious pianist graduating. He has received numerous scholarships and awards for his scholastic, musical, and pedagogical achievements.
His interest in a multitude of approaches to piano playing (and observation of musical personalities) has taken him around the world. As a student, he participated in master classes and consulted with many renowned pianists and pedagogues, including Dmitry Alexeev, Dmitry Bashkirov, Seymour Bernstein, Rafał Blechacz, Andrea Bonatta, Janina Fialkowska, Leslie Howard, Jenö Jandó, Robert Levin, Robert McDonald, John O'Conor, Choong-mo Kang, Tobias Koch, Julian Martin, Andrzej Jasiński, Seymour Lipkin, Matti Raekallio, Hartmut Sauer, Ilja Scheps, Wojcieck Świtała, Balasz Szokolay, Nelita True, among others.
Jarred Dunn is a double-graduate of the University of Toronto (B.M., Piano; B.Ed.), and he took professional studies at The Juilliard School with Jacob Lateiner and Yoheved Kaplinsky. While in New York, he became one of the only members of his generation to study with Dorothy Taubman. He completed his Master of Music and Post-Graduate Diploma (with Distinction) at the Karol Szymanowski Academy of Music in Katowice, Poland, where he was a student of Anna Górecka (daughter of composer H. M. Górecki), and pursued an Artist Diploma with Katarzyna Popowa-Zydroń at the Feliks Nowowiejski Academy of Music in Bydgoszcz. He also participated in workshops with Maria João-Pires in Portugal, at the Granja de Belgais, about which the CBC published Five Things I Learned from Maria João-Pires.