Biography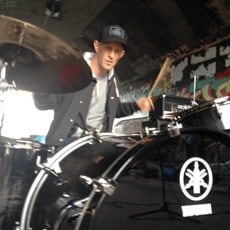 "Yamaha drums have always been my favorites- the sound, the look and now the people & service I get with Yamaha".
Gabe started off playing drums at age 9. "My brother started before me and I played the bass but I couldn't let him be better at anything. So soon I was slamming away at the kit".
Some of Gabe's early influences included the Police, the Clash, the Wailers and the Sex Pistols. "I loved the reggae groove mixed with the punk rock and later on Metal like Iron Maiden, Judas Priest & Metallica". Gabe added this mix of styles to his first band Death Sentence and when that band died (literally), he moved on to the rock n roll stylings of Kiss Kiss n Bang, later playing with Brand New Unit and the Bloody Chicletts.
Currently Gabe is the full time drummer with Vancouver fun punks GOB, who's latest CD "Foot in mouth Disease" has taken Gabe full circle musically.
Gabe can't say enough about Yamaha and his visit to Yamaha's Sakae Rhythm in Osaka, Japan. "I had the honor of hangin? with Hagi and making my own snare drum -it was a dream come true".
Look out for Gabe and GOB touring in a town near you.