Biography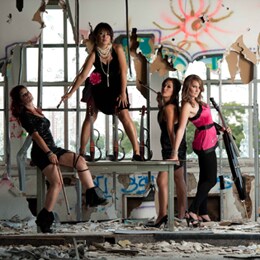 Toronto's deVah quartet is not your typical string quartet. As newly minted Yamaha Artists in 2011, deVah is comprised of Emily Hau on electric violin, Sharon Lee and Moira Burke on electric 5-string hybrids, and Liza McLellan on an electric cello capable of multi bass octaves. Often joining and featured with this group is drummer Mack Longpre who adds modern breakbeat and metal beats. deVah invents a rich texture of sound utilizing various non-acoustic modifying tools creating a different tone and dimension to their music. Set apart from any stereotypical mold, deVah is continuously evolving and recreating itself, innovating the quartet world in electric string artistry.
deVah has recently begun to perform their own original rock charts written by Liza. Their genre is hard to define. Is it prog rock? Metal? Pop or classic rock? You decide. Whatever the genre, these high-energy songs feature a combination of drums, electric strings with a multitude of pedals and vocals. These originals are soon to be recorded in California and released on their debut album "deVah" coming in 2013. In addition to their creative success, deVah has also gained some notoriety by covering many of their favorite bands such as Tool, Muse, Arcade Fire, and The Killers. The group itself has collaborated with some of the most talented artists in the pop and rock scene including: Peter Gabriel, Brian Wilson, Barbra Streisand, Josh Groban, Molly Johnson, Feist, Sarah McLachlan, Chantal Kreviazuk, the Trans-Siberian Orchestra, Kanye West, K-OS and Emily Haines.
The ladies of deVah, although diverse and explorative in their music, possess an impressive resume in their training. Having studied at the Glenn Gould School, Indiana University, McGill University, University of Western Ontario, University of Toronto, and the University of Houston, the musicians value and take pride in their classical roots.