Biography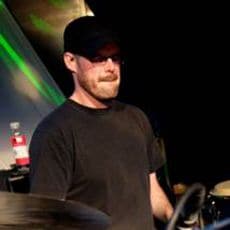 Born in 1978 in Kitchener, Ontario, Canada. Dave Tolley's interest in Percussion began at an early age. While studying piano, Dave figured out that hitting stuff was much more fun than playing melodic instruments. At 11, he created a makeshift kit from a set of bongos and a handful of cardboard boxes and never looked back.
While in high school, Dave studied privately with Kitchener-Waterloo drum teacher Gary Tomlin and was accepted into the York University music program in Toronto, Ontario. While honing his craft, he worked as a backline tech managing to get work with legendary artists like The Monkees, Chubby Checker, America, Sha-Na-Na, and many others. After leaving York University to play professionally, Dave played in numerous local, funk, rock, blues and singer-songwriter outfits.
A landmark moment in his burgeoning musical career, Dave was accepted to the prestigious Berklee College of Music in Boston, and was a recipient of the World Scholarship tour. During this time he had the opportunity to flex his percussive muscles and study under some of the best Jazz, Blues, Afro-Cuban, and South Indian percussionists such as Bob Tamagni, John Ramsey, Bob Weiner, Trichy Sankaran, and Gary Tomlin.
In 2003, Dave met Australian singer-songwriter and multi-instrumentalist Xavier Rudd when he performed with another group that opened up for the artist. The two very quickly developed a bond both personally and musically, jamming together at every opportunity. In 2006, Xavier asked Dave to sit in on a performance, and the day after asked if he would consider heading on tour with him. Dave's musical relationship with Xavier is one of true musicality, trust and improvisation. Often cited with critical acclaim in show reviews, Dave is an integral part of Xavier's live show. Both musicians inspire each other and push the musical envelope, making each live show fresh and exciting.
Dave has performed with several different acts in the Toronto area and continues to perform and play sessions when not on the road. He has performed throughout North America, Australia, New Zealand, Japan, UK, and Europe and appeared at huge festivals such -Bonnaroo, Glastonbury, Alive Festival (Portugal), Nuke Festival (Austria), Blues and Roots (Australia), Austin City Limits (U.S.). He has also played major television performances including "Live at the Chapel" in Australia, and "Jimmy Kimmel Live!" in Los Angeles. He has also with Xavier Rudd on the film score for the major motion picture "Surfer, Dude", starring Matthew McConaughey, Woody Harrelson and Willie Nelson.
Dave currently is performing with Nine Mile, Brian MacMillan, and Danny Michel as well as keeping up a busy schedule of sessions, teaching, and other musical endeavors.