Biography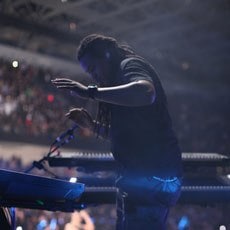 D10 (born Dalton Tennant) is a Toronto-based producer/musician whose professional musical journey began in 2004. Throughout his journey, he has been privileged to be Musical Director and play keyboards for such artists as Drake, Keshia Chante, Glenn Lewis and many more. His production resume includes Drake, Lil Wayne, Trey Songz, Jennifer Hudson, Bun B and more.
D10 started playing piano in church, playing for services and for the Youth and Adult choirs. A close friend asked him to play keyboards for a couple local R&B artists, and that was the beginning of his journey into urban music. D10 quickly made a name for himself and within months found he traveling, playing for some of Canada's top artists.
In 2006, D10 started his company, Dee Tenn Productions, which handles production, live music, and management. In the near future, D10 is looking to expand into film/television.
D10 can be seen playing MOTIF XF, MOTIF XS and MOTIF ES Racks