Biography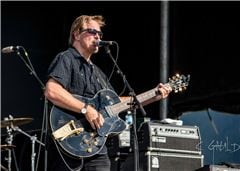 Colin Arthur Wiebe is a singer/songwriter/entrepreneur from Vancouver BC, Canada. Colin has 4 nationally released CD's and is best known for as the lead singer, keyboardist and guitarist for Canadian rock legend, Randy Bachman of The Guess Who and Bachman-Turner Overdrive for almost two decades.
Colin is also the Musical Director for the Legends of Rock'n'Roll and plays both Yamaha keyboards and guitars. When writing for film or producing his own music in the studio, Colin uses a Limited Edition, Motif XF8 as part of his recording workflow. For live performances, Colin has relied on Yamaha keyboards exclusively and plays a CPX acoustic and an AES 1500 electric guitar.
"I started playing a Yamaha CP-80 Electric Grand in the 1980's and then played an S-70, S-90 and S-90ES which you can see in most of my live videos. I still like touring with my S-90 which doesn't weigh as much as the Motif. I play the Motif on larger shows especially when backline is provided because most rental companies can supply a Motif. I love the Yamaha piano sound, most likely because I grew up learning on a Yamaha C7 Grand Piano and I have a Yamaha MX100A Upright Grand in my home."
Colin lives in Vancouver BC with his wife and two daughters and has a new album due in 2018.
For more information check out