Biography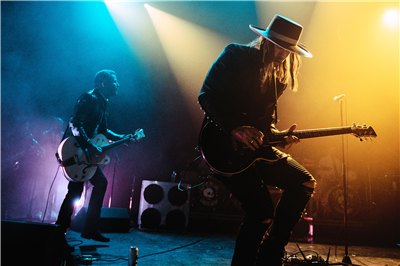 Clayton Bellamy has amassed many accolades during his career. He is a five-time Canadian Country Music Award Winner, a SOCAN Songwriter of the Year winner, and in 2006 he took home the JUNO Award for Country Album of the Year for his band The Road Hammers' self-titled debut.
Born in Bonnyville, Alberta, Canada, Clayton started playing guitar at age 12 on a Yamaha FG-75. He quickly graduated to electric guitar, and by the age of 17 he was playing and touring as a solo artist.
Clayton is not only the creative force behind The Road Hammers, but also Black Mountain Whiskey Rebellion (one of Rolling Stone Magazine's "Bands to Watch") and his new hard rock outfit, The Congregation.
Whether he's touring the globe, or writing and recording for all three bands, Clayton always keeps his REVSTAR RS820CR, RS502 and his custom-painted LL16 ARE by his side.
His latest release, "Clayton Bellamy and The Congregation" -- just released on Anthem Records to rave reviews, and featuring the single "Commandment #11"-- is available on Spotify and Apple Music now!
Yamaha Canada chats with Clayton Bellamy - Make Waves
Clayton Bellamy Acoustic Set – Presented by Yamaha Canada Music – Make Waves
Clayton Bellamy & The Congregation – Presented by Yamaha Canada Music – Make Waves