Biography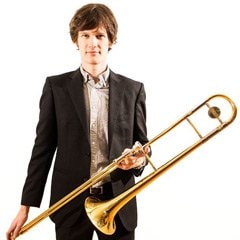 Originally from Sudbury Ontario, Christian Overton is now one of the most in demand trombonists and composers in Toronto in every scene from jazz and rock to salsa, R&B, theatre work and everything in between. He has a degree from Humber College where he studied with some of the nation's top jazz musicians including Pat LaBarbera, John MacLeod, and Alistair Kay. Christian has also completed a Masters degree at the University of Toronto studying with Kelsley Grant, Gary Kulesha and Tim Ries.
Jazz collaborations include: Hermeto Pascoal, John Clayton, Peter Appleyard, Jane Bunnett, Bill Dobbins, The Art of Jazz Orchestra, The Don Thompson Big Band, John MacLeod's Rex Hotel Orchestra, The Art of Time Ensemble, NOJO and Gary Morgan's Panamerican All Stars from New York as well as many other acts.
Non Jazz collaborations include: Glass Tiger, Jully Black, Sloan, Bedouin Soundclash, Do Make Say Think, Classic Albums Live, Alain Trudel, Alfredo De La Fe, Roberto Blades, Willie Torres, KC Roberts & the Live Revolution and many others.
Currently composer for his own Composers Collective Big Band and Quintet, he has composed for several television projects as well as commissions for visits by Ranee Lee and Dave Douglas and for countless jazz and chamber groups.
Recently Christian has launched Clovertone Music Publishing, an innovative sheet music publishing company designed to get customized Canadian material in to the classroom and connect today's professional musicians with the next generation.
Christian is proud to be a Yamaha artist!