Biography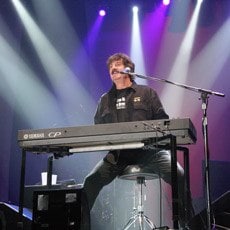 Cummings was born and raised in the Canadian city of Winnipeg, Manitoba, as were all of the other original members of The Guess Who.
His first band was a local Winnipeg R&B group The Deverons, with an 'E', (not to be confused with the band The Devrons who had Country/R&B hits in the early 60's such as "Brand X", "Battle Him", "Lost Love", "Too Little Too Late", "You're too Ugly to be Stupid"). He joined The Guess Who in 1965 to replace keyboardist Bob Ashley and shortly thereafter its previous lead singer, Chad Allan, left the band.
In 1969, The Guess Who scored a huge international hit with "These Eyes", co-written by Cummings (with Randy Bachman). It was followed up by another monster hit "Laughing", again written by Cummings/Bachman. The song "Undun" featured Cummings on a jazzy flute solo.
In 1970, the band hit No. 1 in Canada with "American Woman." Ironically, the song also hit No. 1 in the US, despite the fact that it was not about a woman but about the United States' militaristic ways and societal problems. This marked the first time a Canadian act reached No. 1 on the American popular music charts. As the Beatles had songs on the charts at the time, Guess Who fans joked that the band was "bigger than the Beatles".
Ultimately, personal issues between Cummings and bandmate Randy Bachman -- partially ignited by Bachman's deepening Mormon religious beliefs -- caused a rift in the band. Bachman went on to form the band Brave Belt with former Guess Who mate Chad Allan, and later Bachman-Turner Overdrive which charted hits such as "Takin' Care of Business," "Let It Ride," and "You Ain't Seen Nothing Yet."
Cummings became the de facto bandleader and recorded a string of hits with the band that included: "Share the Land," "Hand Me Down World," "Albert Flasher," "Rain Dance," "Sour Suite," "Glamour Boy," "Star Baby" and many more.
In 1975, after 10 years, Cummings left The Guess Who to become a solo artist and the group disbanded.
Solo hits in Canada included "Stand Tall" (also his only American hit, peaking at #10), "I'm Scared," "Break it to Them Gently," and "Fine State of Affairs." Cummings charted outside Canada with "Stand Tall" and "You Saved My Soul." His Dream of A Child album released in 1978 was the biggest Canadian album in history at that time. Burton helped the sales of this album through extensive autograph signing.
Cummings ultimately made the move to Sherman Oaks, California, and began writing and singing for films in the late 1970s. He currently winters in California and returns to Winnipeg in the summer, living in Canada throughout autumn. He co-starred in the movie "Melanie."
In 2000, Cummings, Bachman and original drummer Garry Peterson toured as The Guess Who. Bassist Jim Kale played one show and former Guess Who sidemen Donnie McDougall and Bill Wallace re-joined the line-up through the remainder of the tour in Canada and later in the U.S.
Cummings purchased Winnipeg's "Salisbury House" restaurant chain with manager Lorne Saifer and a few other local celebrities. He also toured with the re-united The Guess Who from 2000 through the summer of 2003. In 2001, Burton and the rest of The Guess Who received honorary doctorates at Brandon University in Brandon, Manitoba. Cummings also received The Order of Manitoba Award. Most recently, the band played at the so-called "SARSstock" concert in Toronto. On November 23rd, 2004, Burton Cummings' new single "With God on Our Side" debuted at 21st spot on a Canadian music internet music chart. "With God on Our Side" is a cover of the famous Bob Dylan song.
Cummings continues to work on releasing a new album, plays occasional shows with Randy Bachman as The Bachman-Cummings Band, featuring The Carpet Frogs, a band from Toronto and makes occasional appearances at various Canadian casinos as a solo performer. The Bachman-Cummings Band have released a compilation album titled the Bachman Cummings Song Book featuring hits from The Guess Who, Bachman-Turner Overdrive and Cummings' solo career. They have also released an album titled The Thunderbird Trax, which is an album that Cummings and Bachman recorded in Bachman's toolshed in British Columbia in 1987, this album was previously never released for the general public, and in 2006 was finally released for sale exclusively at Bachman-Cummings concerts, and not online or in stores. It is now available on the Bachman-Cummings website (see below).
First Time Around TV Special now on DVD released Nov 2006 on the Sony BMG label. Cummings' first new studio album in 17 years, since Plus Signs was released on June 12, 2007 as a Bachman & Cummings album. The album is titled Jukebox and covers various songs from the 1960s that influenced Bachman and Cummings. There are already plans for a follow up album to Jukebox with Jukebox II sometime in the future, as well as a Television special.
Cummings is set to release a solo album in the first half of 2008 titled Above The Ground. This will be his first solo album since Plus Signs was released in 1990. The album is slated to have 18 tracks - all original songs written by Cummings.
Burton play's CP33 when he is live on stage.