Biography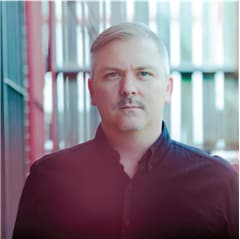 Montreal-based percussionist Ben Reimer has established himself as a leading figure in contemporary drumset performance. He has commissioned solo works such as Ringer by Nicole Lizée, Full Grown by Scott Edward Godin, Train Set by Eliot Britton and the duet Lakoni in Kazonnde by Lukas Ligeti with David Cossin (Bang On A Can). He has arranged the solos Liberty by Tony Williams and Spooky Drums by Baby Dodds and was featured in the publication, Drummer's Journal (4th ed. Aug 2013). As a drumset soloist Ben premiered four concertos by Nicole Lizée with the Kitchener-Waterloo Symphony - Edwin Outwater conducting, the SMCQ - Walter Boudreau conducting, Architek Percussion Quartet and TorQ Percussion Quartet. His album "Katana of Choice - Music for Drumset Soloist" is available from Redshift Records: https://redshiftrecords.org/releases/tk456/
As a percussionist, Reimer has performed with the Winnipeg Symphony, Royal Winnipeg Ballet, Manitoba Theatre Centre and Thunder Bay Symphony. He has participated in the Scotia Festival of Music, Make Music New York, Bang On A Can Summer Music Festival at MassMoca and the Roots and Rhizomes Percussion Residency at the Banff Centre. He has been a guest soloist in the Bang On A Can Marathon, Brandon University "Pro Series", the Winnipeg International New Music Festival, GroundSwell (Winnipeg), The Little Chamber Music Series That Could, Music on Main, PuSh Festival, (Vancouver), Innovations En Concert and live@CIRMMT (Montreal).
As an educator, Reimer has been Adjunct Professor at the Schulich School of Music, McGill University. He was the Coordinator of Percussion Studies at Brandon University from 2003-2009 while also teaching a range of performance, music education and music therapy courses at the University of Manitoba and the Canadian Mennonite University. Reimer has been a guest clinician at the Manitoba Band Association Summer Band Camp, Quebec Band Association Honour Band, the International Music Camp (International Peace Gardens), Prairie Percussion Camp, Winnipeg DrumTalk and the National Youth Orchestra of Canada.
Ben Reimer can be heard on recordings such as: "Bookburners" and "This Will Not Be Televised" – music by Nicole Lizée (Centredisc), "Pinnacles" – music by Diana McIntosh (Centredisc), "Inuksuit" – music by John Luther Adams (Cantaloupe Music) and "A Menacing Plume" – music by Rand Steiger (New World Records).
Reimer is a member of Architek Percussion, Chow/Reimer Duo (with pianist Vicky Chow, NYC) and Want Slash Need. He plays a YV3910 Vibraphone, YM6000 Marimba and Oak Custom drumset. www.benreimer.com