Biography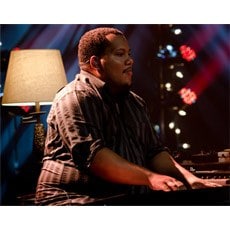 Anthony Wright has been surrounded by music his entire life. His father being a minister and his mother a gospel singer, Anthony got his start in the church. His thirst for repertoire and his great ears led him to a giant gospel song list, and he started to take music seriously. At 14 he was playing with members of the Isley Brothers and Surface, and it wasn't long before he was a staff arranger for Busch Garden's Starlight Orchestra... at the age of 16.
After extensive teaching from some amazing professors and musicians in their own right, Anthony move to the cruise ship industry. His arranging and composition skills, along with his proficiency in saxophone, flute, clarinet, piano and voice led him to become Carnival Cruise Lines youngest Musical Director. To this date, Anthony is responsible for just about 1⁄2 of CCL's written shows.
Anthony left cruise ships with yet another trade under his belt... the 1s & 2s. He is an internationally renowned DJ, playing major clubs in Miami, Mexico, Puerto Rico, Jamaica, Los Angeles & New Orleans.
Anthony now frequents Toronto, and is now playing for Matthew Good. He also recently played with Canadian Idol Eva Avila, joining Beyonce for her Canadian Tour. He has played with the likes of Glenn Lewis, Melanie Durrant, Kid Rock, Shamakah Ali, Wade O'Brown, Shakura S'aida, Kayte Burgess, Chris Rouse, and the legendary Brooke Blackburn. Although he is a capable singer in his own right, he make his living backing up many amazing artists. And as a DJ, he is the resident for Mariposa Cruises, SITC and Cadillac Fairview. He has played parties for the likes of Geddy Lee, Bill Clinton, Shakira, Eugene Levy, Tom Cruise, John Travolta and Elton John.
Anthony is also a talented producer, working with BoB, John Legend, Kim Davis, Eva Avila, Toya Alexis, and most recently Mike Ferfolia on is debut release entitled "Pop Star Reject".
Currently, Anthony is playing for Matthew Good on his Lights Of Endangered Species tour.