Anagnoson and Kinton Piano Duo
Biography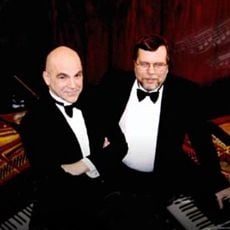 "Synchronicity" is used to describe an intuitive, almost inexplicable co-ordination in timing between people. It could surely be used to describe the outstanding duo piano artistry of James Anagnoson and Leslie Kinton. Rich in history, Anagnoson & Kinton are entering a remarkable third decade of performances. And like finer things in life, their reputation and legacy grow richer each year.
That two pianists can produce a virtually seamless sound, over this many years, gives cause to marvel. The critics certainly have. As The Ottawa Citizen duly noted: "Anagnoson and Kinton's playing is everything that duo-piano playing should be." This legendary duo has enchanted audiences throughout Canada, major sections of the United States, Europe, and most recently China.
Of course, as Anagnoson & Kinton continue to seek new geographic frontiers, they also push towards new artistic horizons. In addition to performing with the major orchestras in Canada, they have expanded in innovative musical directions, such as performing Stravinsky's Rite of Spring alongside Ballet BC. Summer 2006 saw them in a multi-genre premiere entitled Into the Labyrinth by Canadian Ray Luedeke, featuring staging by Tom Diamond and narration with actor Colin Fox.
In 2008 - 2009, Anagnoson & Kinton are off to Russia where they will perform in St. Petersburg's Glazunov Hall as part of the 8th Annual International Conservatoire Week Festival. Other highlights for the season include the opening concert for the evening series at the Richard Bradshaw Amphitheatre in Toronto's Four Seasons Centre for the Performing Arts where they will play the four-hand version of Stravinsky's Petrouchka; as well, they are returning to Music in the Morning in Vancouver for a performance of Brahms's Variations on a Theme of Haydn and Bach's Concerto for Two Keyboards and Strings in C major.
Anagnoson & Kinton's recording portfolio is extensive. Since 1981, their nine titles have included works for two pianos, two pianos with orchestra, and one piano four hands. In 2006, a special compilation CD entitled 'Stages' celebrating their milestone 30th season was launched to great acclaim.
As both performers and scholars, Anagnoson & Kinton hold distinguished places in academic circles. James Anagnoson is the Dean of The Glenn Gould School, Royal Conservatory of Music. He is a graduate of the Eastman School of Music and holds a Masters Degree from The Juilliard School. Leslie Kinton is on the faculties at both The Glenn Gould School and the University of Western Ontario. He holds a Masters degree and a Ph.D. in music theory from the University of Toronto.
Anagnoson & Kinton, like most outstanding ensembles, are actually greater than the sum of their parts. Or to quote Richard Dyer in The Boston Globe, "As individuals, they seem to have no technical shortcomings at all; in tandem, they are more than twice as good." And getting better.
Anagnoson & Kinton are Yamaha Artists and have recorded for ProArte, CBC's SM5000, and CBC's Musica Viva.