Biography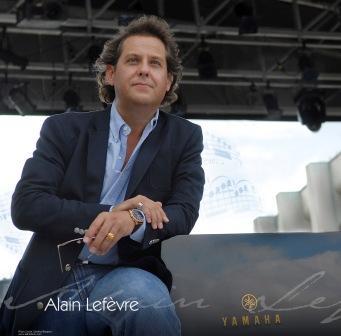 Acclaimed as a "hero" (Los Angeles Times), a "spectacular pianist" (Fanfare), a "smashing performer" (Washington Post), an "artistic winner" (Music Week, London), a "genial talent" (TheGazette), and as "the 10 most agile fingers to have emerged from Quebec…" (Toronto Star), Canadian pianist and composer Alain Lefèvre has a sparkling international career, touring repeatedly world-wide, performing to prestigious venues, in recital and with international orchestras and leading conductors.
Saluted by the international press, for his "phenomenal technique" (The Spectator), his "sparkling playing resulting in fascinating interpretations" (Kölner Stadt Anzeiger), his "sovereign mastery" (Hamburger Abendblatt), his deep sensitivity and exhilarating personality, Alain Lefèvre is a pianist who "breaks the mold" (International PIANO, London), and most importantly, an artist who "truly stands out from the typical trends and artifices offered on the international scene" (Classica). He often performs to sold-out audiences, leaving them mesmerized. Some of his interpretations were described as "unparalleled" (Westdeutsche Zeitung), and even unsurpassed "in memory" (Los Angeles Times).
Guest soloist to a number of orchestras, he has appeared with the Royal Philharmonic Orchestra in London, the China Philharmonic Orchestra, the Guangzhou Symphony Orchestra, the Malaysian Philharmonic in Kuala Lumpur, the SWR in Stuttgart, the Hambürg Symphony, the Stuttgart and Wuppertal Symphonies, the Nuremberg Symphony, the Detroit Symphony, the National Symphony (Washington D.C.), the Houston Symphony, the Tucson Symphony Orchestra, the Long Beach Symphony, the Pacific Symphony Orchestra, the Philharmonie de Lorraine, the Montreal Symphony Orchestra, the Toronto Symphony, the Quebec Symphony Orchestra, the National Symphony Orchestra of Mexico, the National Symphony Orchestra of Buenos Aires and the Moscow Virtuosi, to name but a few. He has also worked with renowned conductors such as Matthias Bamert, Franz-Paul Decker, Charles Dutoit, Christoph Eschenbach, Lawrence Foster, George Hanson, Bernhard Klee, Kent Nagano, Yannick Nézet-Séguin, Jean-François Rivest, Jukka-Pekka Saraste, Vladimir Spivakov, Carl St-Clair, Yoav Talmi, Yan Pascal Tortelier and Long Yu. He also worked with composers Pierre Max Dubois, Walter Boudreau, Henri Dutilleux and John Corigliano. Besides his participation to numerous International Festivals such as Cervantino in Mexico, Istanbul Festival in Turkey, Epidavros in Greece, Wolf Trap and Vermont Mozart Festivals in the US, Lanaudière International Festival, and Mostly Mozart at Notre-Dame Basilica. He performed in more than thirty countries worldwide.
In November 2007, Alain Lefèvre was given the Decoration of Chevalier de l'Ordre de la Pléiade for his outstanding contribution in the artistic community. Winner of a Classical Internet Award (Classicstoday.com) for his recording on the Analekta label featuring André Mathieu's Concerto de Québec, he was also awarded five Felix Awards (2001 -2007) including his latest CD, Rhapsodies, recorded live with the Montreal Symphony Orchestra. When released, it was also one of Canada's Best-selling Classical album. BBC Music Magazine stressed that this CD was "an essential purchase", saluting Lefèvre's "greatest passion and excitement".