---
« Le modèle phare de DTX qui revendique la beauté des vrais tambours »
La série DTX10 est le fleuron de la gamme DTX, combinant la fonctionnalité des tambours électroniques avec la beauté pure de leurs homologues acoustiques.
Avec de vrais sons de batterie et une véritable ambiance de pièce enregistrés dans des studios de renommée mondiale, une jouabilité qui vous permet de créer des sons de manière intuitive, une sensation et une expressivité inspirantes, et la véritable beauté des coques en bouleau véritable avec les mêmes finitions que celles utilisées sur les tambours acoustiques, la série DTX10 est née de la technologie et des sensibilités que Yamaha a cultivées au cours de ses nombreuses années de fabrication de tambours.
---
Real sounds that drive the drummer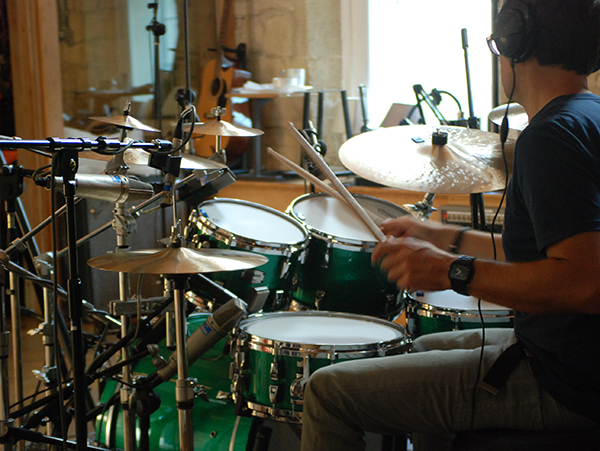 Real sounds that drive the drummer
No compromise has been made in recording the sound of the instruments themselves. The DTX PROX sounds have been fine-tuned to naturally follow the drummer's performance and allow for maximum expression.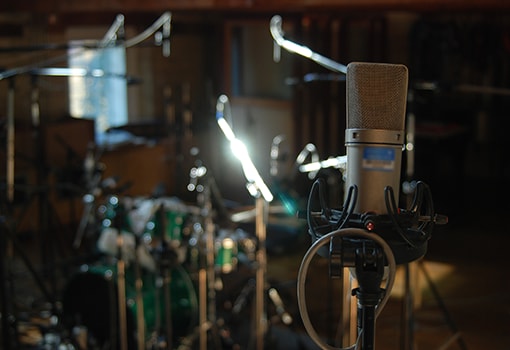 The acoustic drum sounds built into the DTX-PROX are all real sounds recorded in some of the best recording studios in the world. As well as recording the direct drum sounds, the unique natural room ambience of the studios where they were recorded was also sampled.
Performances by leading Yamaha drums artists were recorded and mixed by a team of recording engineers to give the final instrument samples. The project sound director, an electronic musical instrument development professional, specified exacting recording techniques to capture the full detailed sound of each drum and cymbal, from the initial attack, until the very end of the natural sound.
The drum pads, the drummer's interface with their instrument, have been carefully matched to the DTX-PROX Module to offer excellent expressive capabilities.
Intuitive playability that inspires creativity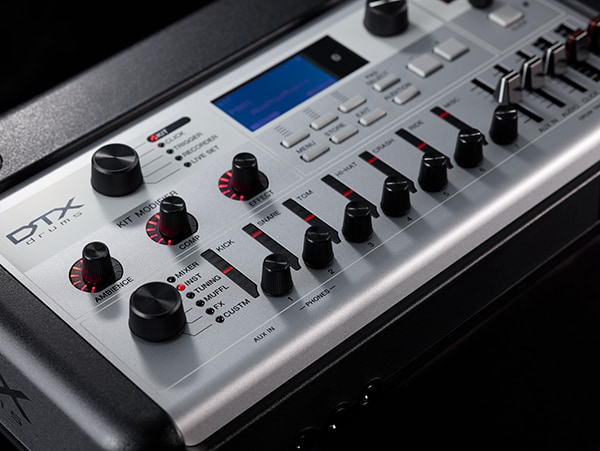 Intuitive playability that inspires creativity
The Kit Modifier and LED rotary fader featured on the DTX-PROX offers drummers limitless possibilities for their creativity.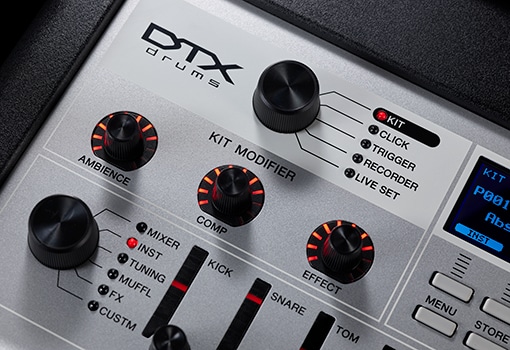 The KIT MODIFIER knobs condense the sound creation know-how that Yamaha has accumulated over decades into three knobs: AMBIENCE, COMPRESSION, and EFFECT. A wide range of tonal possibilities are available thanks to Yamaha engineers — from the natural sound of acoustic drums, through to processed live performance sounds, to heavily effected sounds.
The AMBIENCE knob controls the natural ambience and reverb of the drum kit sound. On acoustic drum sounds, the AMBIENCE MODIFIER controls the real recorded natural ambience from 0-50%. When turned up higher than 50%, high quality digital reverb is also introduced to the sound.
The COMP and EFFECT knobs utilize the "1-knob" control technology featured in many Yamaha PA products.
The COMP adds one-knob compression to the whole kit sound, from subtle to very obvious, while EFFECT controls the mix of the internal effects processors. The processors are fully adjustable and have a long list of available effects to choose from.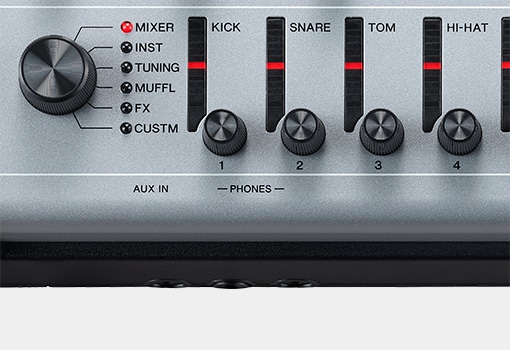 The seven LED rotary faders can be used to change the parameters of all the instruments. With the fader select knob, you can select your preferred option from six presets (with 14 sub presets) and control it intuitively with the LED rotary faders.
Additionally, the LED rotary faders can be used to control connected external devices and DAW software, in studio and live situations.
Optimum feel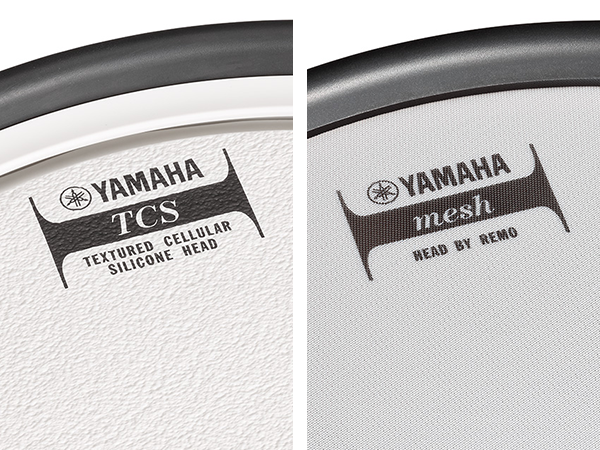 Optimum feel
The DTX10 series lets drummers choose between two head materials according to their personal preference, for optimum response when playing.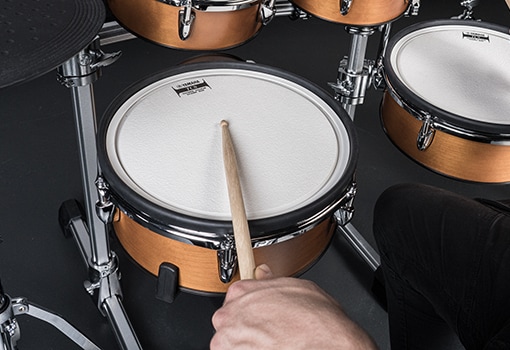 Yamaha TCS (Textured Cellular Silicone) heads feature a unique internal structure that provides a realistic response with realistic hardness and rebound, as well as a treated surface that prevents stick sliding. The result is a natural drum feel that encourages you to keep playing.
The snare and toms boast a feel very close to their respective acoustic counterparts. Their surfaces will never loosen, no matter how many times they are hit, maintaining the best possible feel at all times.
The snare pad also comes equipped with a hit point detection function, further enhancing your ability to express yourself musically.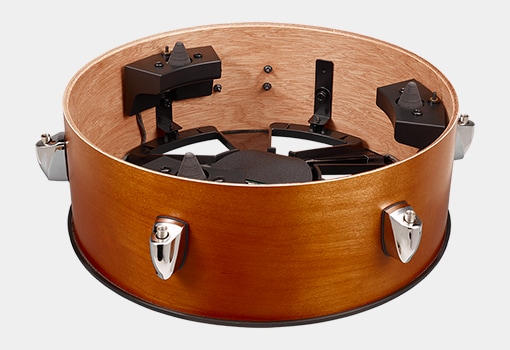 The mesh pads use two-ply heads made by Remo. They boast outstanding noise reduction, durability, and feel when hit, as well as a great rebound, making them superbly comfortable to play. The heads can be tuned to suit your personal preferences. The snare pad is equipped with three sensors that precisely respond to delicate stick work.
La parfaite reproduction et concordance des couleurs affichées sur ce site ne peut être garantie par Yamaha.