FG Red Label Since 1966 TRADITION MEETS INNOVATION
FG Red Label Since 1966 TRADITION MEETS INNOVATION

FG Red Label Since 1966 TRADITION MEETS INNOVATION
Developers of the new and original FG talk about what has remained unchanged since 1966 and what new challenges were taken on.
In the archive room that is now home to successive generations of Yamaha acoustic guitars, two people involved in the development of the new and original models get together and share their behind-the-scenes product development stories.
Profile: Shingo Ekuni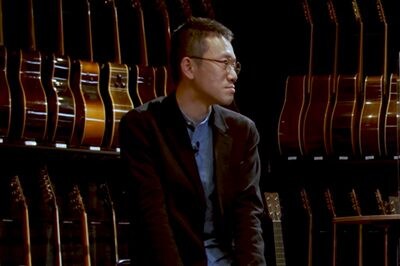 Profile: Shingo Ekuni
Mr. Ekuni joined Yamaha Corporation in 2011. He took part in the design and development of electric and acoustic guitars, and worked on the development of the LL-TA and LS-TA TransAcoustic™ guitars from the initial stages. In 2016, he took up a post at the development facilities in the U.S. (now known as Yamaha Guitar Group, Inc.) and was involved in the development of the FG/FS Red Label. He has since returned to Yamaha Japan and is now in charge of product planning for acoustic guitars.
Profile: Hideo Ueda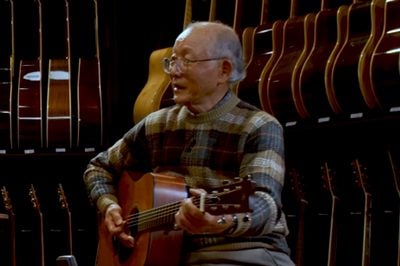 Profile: Hideo Ueda
In 1962, Mr. Ueda joined Nippon Gakki Co., Ltd. (which changed to its current name Yamaha Corporation in 1987). He developed the Yamaha brand's first folk guitar, the FG-180. When he first joined the company, he worked designing machines, but later became involved in guitar development.
"A sound in which the bass really stands out, and the treble is sweet and sustained. That's the Yamaha sound." Mr. Hideo Ueda, developer of the FG-180, the precursor of the FG Red Label, tells the story of how the FG-180 was developed.
Ekuni: I have been working in guitar development since joining Yamaha in 2011, and was also involved in the development of this FG Red Label, which was released in 2019. The FG Red Label series has its roots in a model called the FG-180. I am joined by Mr. Hideo Ueda, the developer of that model at the time.
Ueda: I joined Yamaha Corporation in 1962 under its old name of Nippon Gakki Co., Ltd. At first, I was designing machines, but since I had joined a musical instrument company, I wanted to design and research instruments. So, I asked the company to switch to guitar research and development.
The president at the time, Gen'ichi Kawakami, made it the mission of Nippon Gakki to produce quality instruments that could be used for a long time. Our policy was that we would never put out an inferior product. And another key principle was to make something that was different from any other brand, so it took a lot of effort to figure out what kind of folk guitars to make.
Ekuni: What kind of sound were you aiming for?
Ueda: In simple terms, we wanted a sound in which the bass really stands out, and the treble is sweet and sustained. That's the Yamaha sound. The same holds true for our pianos. It's not the kind of thing where you can be satisfied with just making one or two prototypes, so we ended up making over a hundred prototypes.
Ekuni: Wow!
Ueda: I could hear people around me wondering why on earth we were making so many, but that's what it was going to take if we wanted to make something good, so in the end we got permission. For the appearance, we had to come up with something original for Yamaha's first folk guitar, so we made the head in the shape of a Y to stand for Yamaha. The pickguard is also something that indicates right away that it's a Yamaha. We used to say that it had a "bump," because of the part that sticks out beside the fingerboard above the sound hole.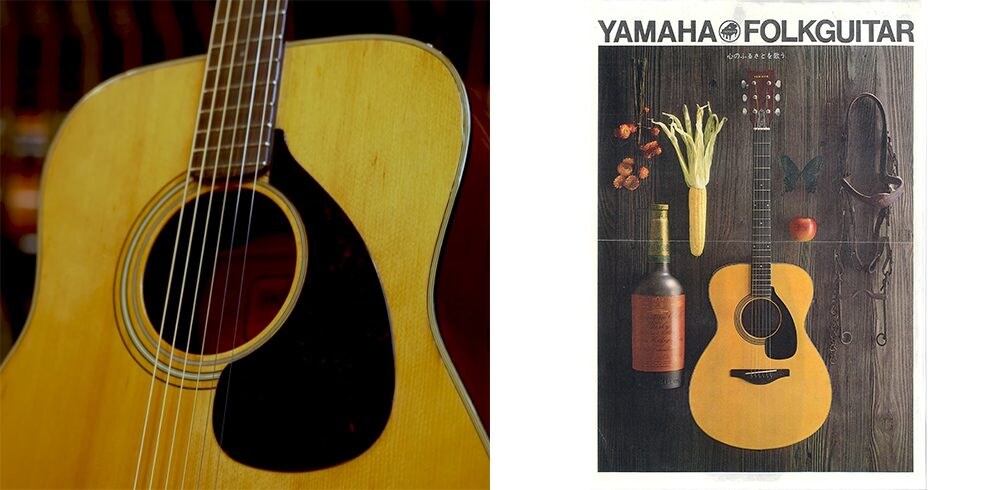 Ekuni: It seems you were also very particular about quality, but specifically, what kind of things did you do?
Ueda: Specifically, we left completed instruments in a room with high humidity, a dry room, or cold room for many days and checked them carefully to make sure they didn't become deformed. We thought it was only natural for a company that makes musical instruments to not release anything to market unless it passed these tests.
Ekuni: That way of thinking about quality has been handed down to us to this day. In the process of designing a product, we perform rigorous tests and quality verification using prototypes; only those with specifications that pass quality tests are released to market.
"The project actually began in the United States." How the FG Red Label was developed
Ekuni: Now I would like to talk about the FG Red Label Series. This series is a revival of the FG-180, which was originally nicknamed the FG Aka Label (which means "Red Label"). The project actually began in the United States. There are quite a few guitar players and artists for whom the old FG is a favorite, and in listening to what they had to say, we found that there were three main points. The first is the sound. The FG sound is different from that of guitars from other manufacturers. I think the unique bass is really deserving of mention. There are artists who really like the bass that you were so particular about. The second is the appearance. I think it has a unique look that tells you right away that it's a Yamaha guitar as opposed to one from other manufacturers. There are some artists who really like this appearance and use it for that reason. The third is durability. It can handle being brought around on tour and played in various environments. Sound, appearance, and durability—we found out that these three things are the FG's key points.
During development, we put the most effort into the sound. The bass and the crisp treble of the FG-180 are wonderful, but with the current technology we thought we could take it even further, and so we created this model. I'd like to play a little bit to show what kind of sound it makes. (plays)
Ueda: Very nice. Can I try it out? (plays)
This bass really is Yamaha bass, isn't it? Thank you.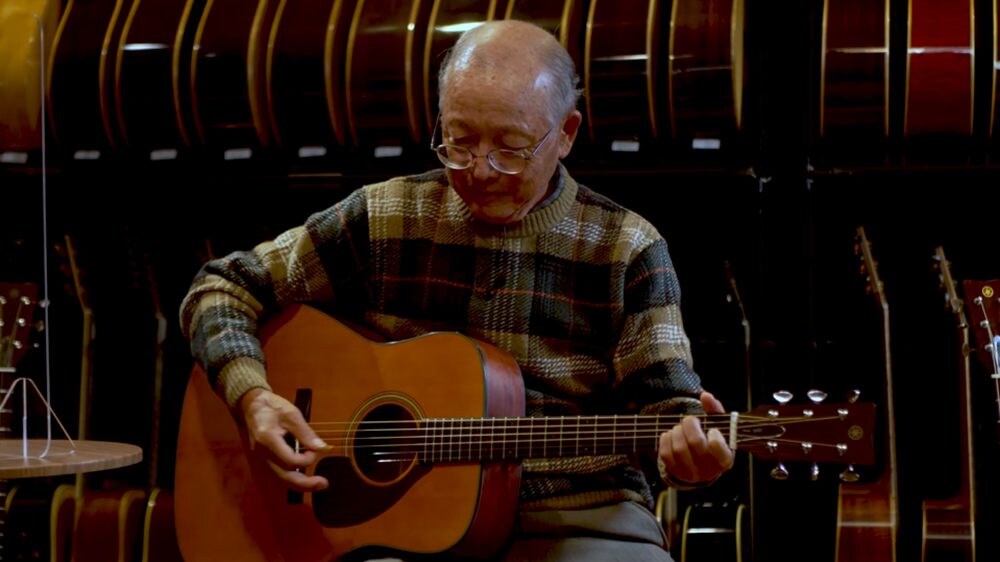 Ekuni: Thank you. How does it compare to the sound of the FG-180?
Ueda: The bass is quite strong, and the treble, I would call it sweet, or rounded out. Or warm. It makes the FG-180 seem like a guitar that was still in its early days.
"Two main technologies that were applied to this design are A.R.E. and scientific design." Technologies used for the FG Red Label
Ekuni: Thank you. About the warm bass you just touched on, two main technologies were applied to this design to achieve that bass. The first is a technology we call A.R.E., which stands for Acoustic Resonance Enhancement. The Sitka spruce used for the soundboard is put through an aging process under a particular temperature, humidity, and atmospheric pressure, which modifies new wood to have the quality of mature wood. We applied this technique in creating this FG Red Label.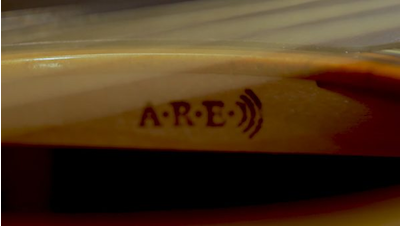 Please see here for details on Yamaha's A.R.E.® wood modification technology:
Japanese:
Listen to the sound of guitars treated with A.R.E. in this video:
Ekuni: The other technology we used incorporates a scientific design method for this guitar. We have established a method in-house to design features such as the bracing pattern by painstakingly researching the characteristics of famous guitars, such as what kind of vibration characteristics they have, and what kind of characteristics they have when they are making sound, and then creating computer simulations based on that data. To be more specific, the angle of the X-brace, which is the part shaped like an X in the middle, has in fact been made a little wider with this model. In addition to that, the scalloped shape of the bracing is derived from a computer simulation. Of course, simulation alone is not enough, so after that, we made dozens of prototypes and played them, and had artists play them as well, and then after testing for durability, we finally reached completion.
Yamaha's acoustic guitar vibration and acoustic analysis technology:
Japanese:
English (same page as A.R.E.):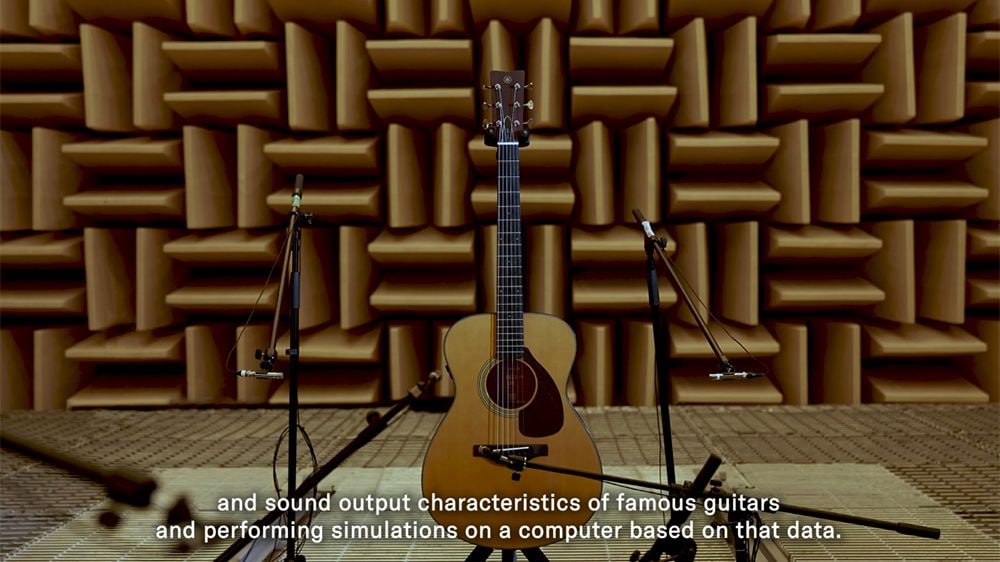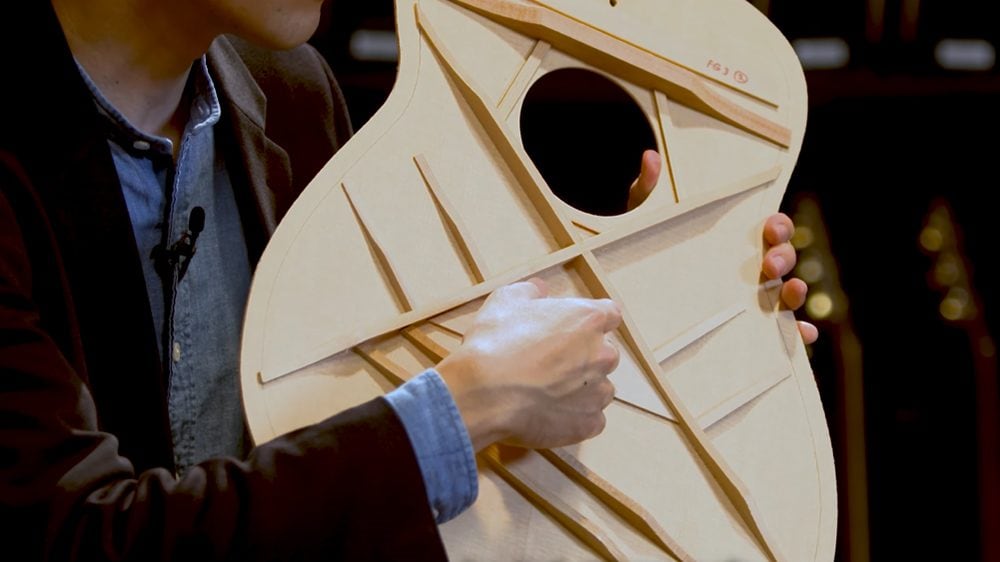 "The open-gear tuning is worthy of note—it's no exaggeration to call it a perfect reproduction." The appearance of the FG Red Label
Ekuni: As for the appearance, the FG-180 had already achieved a wonderful level of perfection, so although there were some tweaks, I think we were basically able to make a guitar that looks very much like the FG-180. There are a few points that are a close reproduction, but the open-gear tuning is worthy of note—it's no exaggeration to call it a perfect reproduction. If there is one thing that looks different, it's the coating. The FG-180 was finished with a glossy, lustrous coating, and as time goes by it comes to have a denser look, which I think is a defining feature of a vintage FG. There were quite a few guitar players who liked that appearance, so we incorporated a satin finish in this new design.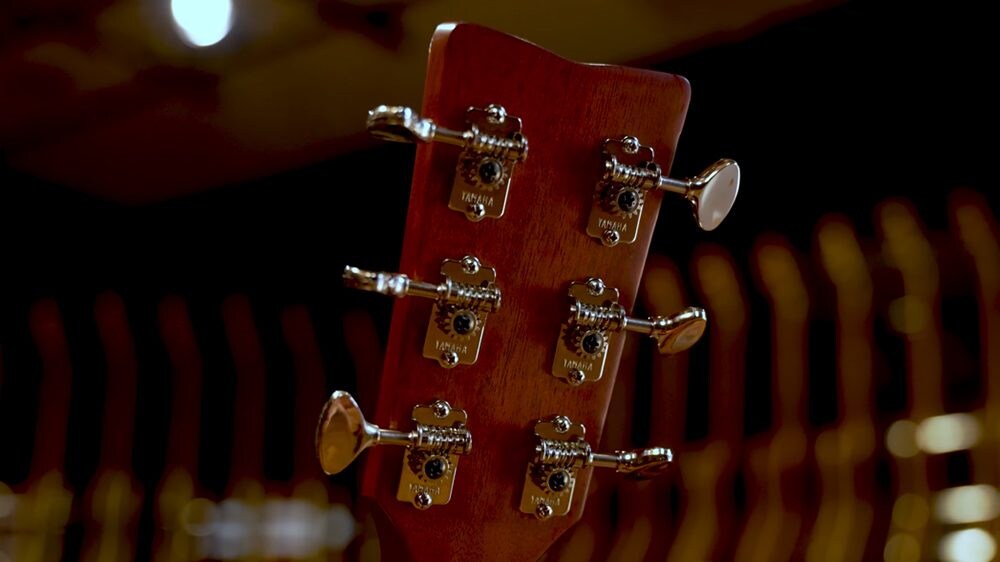 "The high-frequency overtone components lend an airy, expressive feel." Pickup system
Ekuni: Next are the pickups. This model comes equipped with a pickup system with the brand name Atmosfeel™. There is a piezo pickup under the saddle, a contact sensor under the soundboard on the bass string side, and a sheet inside the body on the left side of the upper bout that has a microphone attached. These three elements comprise the pickup system. Among them, the contact sensor is particularly outstanding and exceptionally light. Here is the actual sensor. Being this light not only minimizes the effect on the sound, but it also vibrates very easily because it is so light. The high-frequency overtone components are remarkably high, and lend an expressive, airy feel.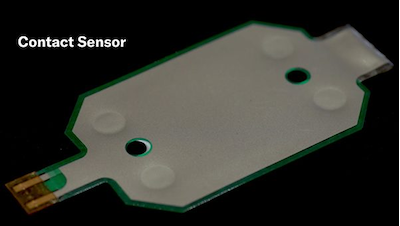 Atmosfeel™ 3-Way Pickup and Preamp System
Ekuni: Let me plug into an amp to hear how it sounds. (plays)
Ueda: It sounds like it's unplugged, doesn't it?
David Ryan Harris "I want to use a Yamaha guitar because it has this pickup."
Ekuni: Singer-songwriter David Ryan Harris, who also plays guitar in John Mayer's band, said he wanted to use a Yamaha guitar because it has this pickup. We have received high praise for it being able to faithfully express the guitar's acoustic sound.
The FG series started in 1966, and as someone involved in its development, I hope it will continue to be a model that guitarists around the world can enjoy.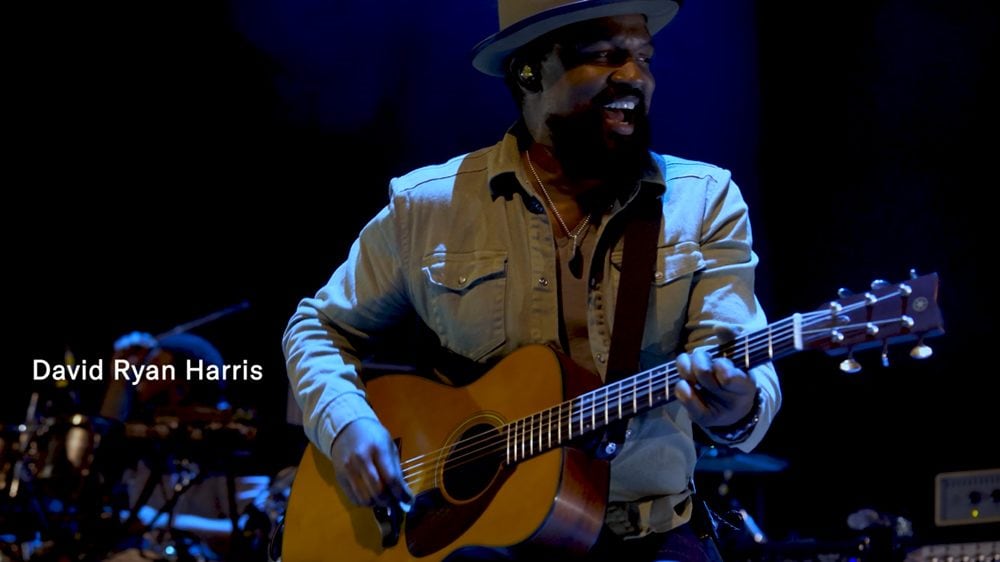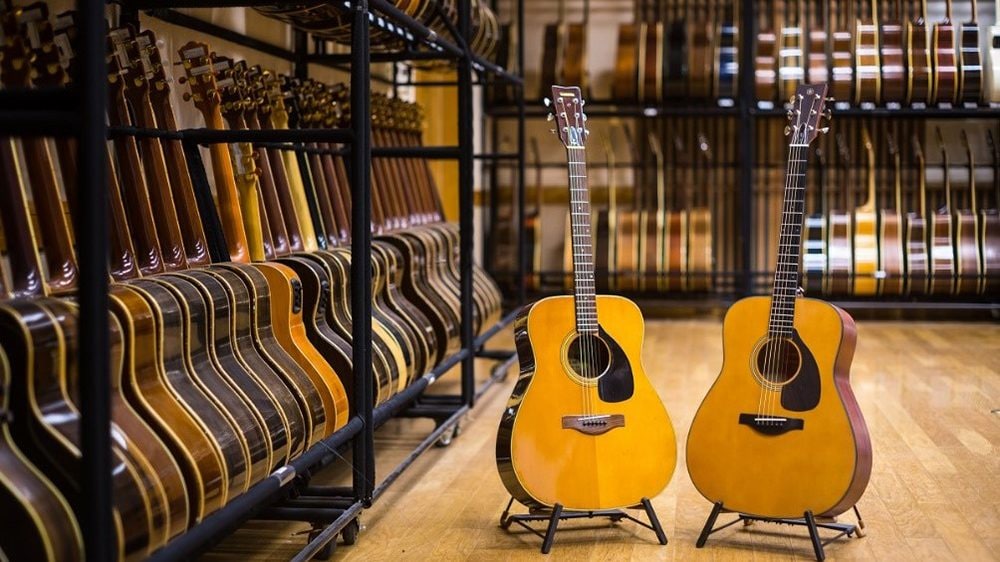 We have an original video of this article that is available to view in this YouTube link.
FG Red Label Since 1966 TRADITION MEETS INNOVATION