Biography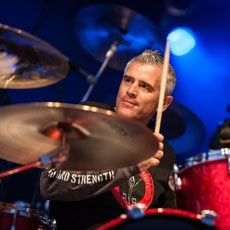 Chances are, if you've passed time watching television or playing video games in recent years, you've already experienced some of the musical styles of Terry Lesperance! Shows like "Big Bang Theory," "One Tree Hill," and "August Rush" feature music where he has masterfully provided the groove. In addition, Terry performs regularly with numerous bands and artists including: "Haley & Michaels,""Celldweller,""Martha Reeves," "Paul Dozier,"and "The Drawing Room".
Terry has been drumming since the age of 4 and has worked hard ever since. Supporting hundreds of artists in the Windsor-Detroit area, he has built a strong reputation as a no-nonsense drummer who can be called upon for any situation, and by adhering to his philosophy when it comes to his career:
"Don't compromise your abilities, keep a positive attitude, play great gear and be a pro!"
Over the years, he has done extensive touring and countless studio sessions with some of the biggest names in the industry. For Terry however, it's not about the name, or the size of the gig, it's about the experience and doing what you love, which is what has kept him busy behind the kit all these years.
As a producer, Terry is a founder of "Blind Squirrel Entertainment" along with fellow partner Joel Bruyer of "Thousand Foot Krutch," and has been actively involved in Joel's new solo project: "The Drawing Room" (Tooth & Nail Records). In addition, Terry worked closely with Klayton of "Celldweller" on his recent release Soundtack for "The Voices in My Head Vol. 1" (SVH), a primarily instrumental score-based album. The project features "Solaris," which has already been featured in a movie trailer for Frank Miller's "The Spirit".