Biography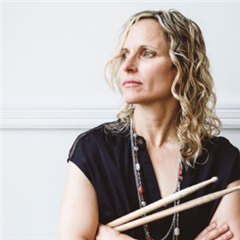 Morgan Doctor first picked up drumsticks when she was 10 years old. From junior highschool band to Radio City Music Hall, her career has been nothing less than expansive and inspiring. She has played over a thousand dates all over the US, Canada and Europe. She currently plays with Andy Kim (Arts and Crafts), Chantal Kreviazuk, Raine Maida and Rita Chiarelli. She has drummed with The Cliks (Warner/Tommyboy), Ron Sexsmith, Kevin Drew, Alex Lifeson, Feist, Fefe Dobson and Sandra Bernhard.
Morgan Doctor has performed and appeared from live National TV (MTV Live, David Letterman,MTV CRIBS, MTV Total Request Live, IFC, CNN, Craig Ferguson, etc) and live radio shows, awards ceremonies, TV and radio commercials, sold out theaters and arenas, music videos, and countless full length Albums. Also performing and winning at MTV LOGO's "Artist on the Brink" Award for 2008 with The Cliks. She received a Dora nomination for her sound design for Between Us Goddess in 2005 and earned a Juno and Dora nomination with her work with The Toronto Tabla Ensemble in 2001. Morgan's session drumming has turned up on TV and Film Soundtracks including the CBC Metro Morning, The L Word, and Grey's Anatomy. Morgan is a big advocate of music education and teaches at Girls Rock Camp Toronto as a drum instructor and band coach.
In 2006 Morgan signed with Aporia Records and has released three solo albums with them. Her solo work can be heard on TV shows such as WordTravels (OLN/National Geographics Channel), and radio shows such as DNTO, Hear and Now and The Signal (theme song). Her most recent release, "Major Over Minor" is her first full length instrumental album. "... it is a rare musician who can make an instrumental album that seems confessional" - Toronto Star
Morgan is endorsed by Vic Firth, Yamaha Drums, Evans, Billdidit, Zildjian and Steinberg. She has also appeared in Modern Drummer Magazine. She is a regular contributor to Tom Tom Drum Magazine.
When she's not performing, recording, producing, or practicing yoga, Morgan enjoys time with her dachshund Cymbal.